Black Student Protest
Instructions
This page contains demands made by the Black Student Unity Movement at Rutgers University and pictures of a rally which followed. Read the demands made by the Black Student Unity Movement in Document #1
Pamphlet from the Black Student Unity Movement. February 10, 1969. Rutgers Special Collection and University Archives.
We, the Black Student Unity Movement of Rutgers the State University are exacting that the following demands be made operative with respect to the following date, February 17, 1969. We will not rationalize nor verbalize the non-compliance of these demands. Our demands are as follows:
We demand that all racist faculty be removed from the university.
We demand that an Urban Education Department be established.

Brother Michael Edwards to be made assistant to department chairman.

His job must be that of course selector, curriculum instructor, and lecturer.

Establishment of an urban Community Board

Purpose--to study urban problems and make proposals for change.

Degree Program

B.A. or Associate Degree

We demand that a Black Studies Department be established.

Black Students and Faculty Controlled.

Students are to determine grading system, faculty personnel, and firing system.
Financial control by students and faculty.
Black education Courses

African Languages
Philosophy
History
Politics
Economics
Literature
Art
Music

Degree Program

African Languages

We demand that this University hire more Black personnel other than faculty.
We demand that Brother Charles (Poppy) Sharp be assigned three lecture seminars
We demand that an Afro-American be made Director of Admissions for Black Students.

Matriculated Black students are to inform a committee to review applicants and choose director.

Objective--the recruitment of 250 Black students
Establishment of a Stewart Shelton Memorial Scholarship Fund to pay tuition fees and books for each student

We demand that an Afro-American be made Dean of Black Students.
We demand that a Black Financial Director be immediately installed.
We demand that a Black dormitory and recreation building be completed within the next year and a half.
We demand that graduate schools be established in other fields of scholarship besides Law and Education.
We demand that an Educational Cultural Center be established for the community and university itself.
We demand that the community be granted access to existing University facilities.
We demand that Rutgers here establish a community foundation with the initial reserve of $50,000.
We demand that this institution embark on an extensive program of recruiting Afro-American and Hispanic high school seniors.
We demand that student teaching be done within Camden City proper.
We demand that a Board of Academic inquiry be set up for Blacks students.

Composition

Black students and faculty
Official recognition by the University
representation to be decided by the Black students

We demand that classloads are to be reduced for professors.
We demand that a course in racism be instituted.

This course is to be taught by Brother Charles (Poppy) Sharp.

We demand that the existing grading system be revised so that emphasis be placed on:

Field Work--this is to apply in fields such as:

Sociology
Political Science
Education
Psychology

Outside Outreach--this is to be given credit.
We demand that course requirements be revised in order to allot more time to field experience.

We demand a pay increase for professors and non-professionals.
We demand that the new library addition be named after Brother Paul Robeson. Livingston College to be renamed Robeson University.
We demand that college credit be granted for black life experience.

ex. Waive certain irrelevant courses

We demand that a night preparatory division be set up to accommodate high school drop-outs and any interested persons.
We demand that a Black section be set aside in the now existing University Library and name it after Dr. Ulysses Wiggins.

Composition

Books
Filmstrips
Records
Tapes
Periodicals
Questions for Discussion
Summarize the basic demands of the Black Student Unity Movement.
Are the demands of the Black Student Unity Movement reasonable? Why or Why Not? Which demand do you feel is the most reasonable? Least Reasonable? Explain.
You are now at the Black Student Protest at Rutgers. From your seat, answer the questions which follow the pictures.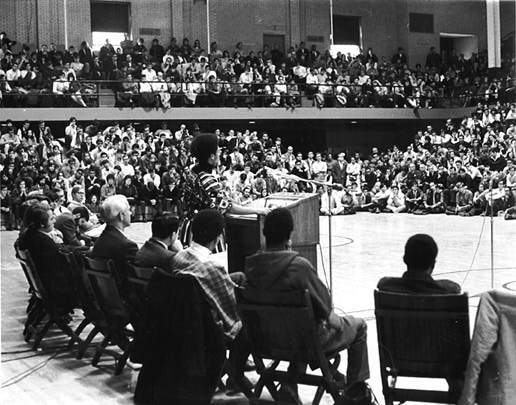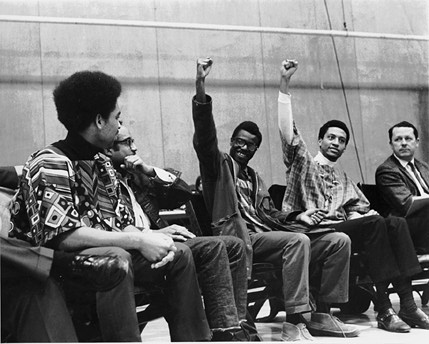 Describe the pictures in as much detail as possible.
What ideas and emotions are expressed through the pictures? What do you feel the raised arms and fists of the protestors symbolize?
The documents do not tell you the whole story of what happened between the issuing of the demands and the protest rally. What do you think happened? Were the demands met?
Why do you feel the photographer took these two pictures? What was the photographer was trying to capture? What are the effective aspects of these pictures?
What does the term black power mean today? What emotions and ideas are raised by the term? What do you feel may be the current concerns of the black power movement today?