Right now in High Schools across the state of New Jersey, many seniors are feverishly completing college applications. While some students may be limited in their choice of schools by their SAT scores, class rank, or financial status, their gender is rarely a consideration. While it may not be a reality for today's students, thirty years ago half of the graduating seniors were unable to attend one of New Jersey's top colleges. Since it's founding in 1766, Rutgers College remained an all male institution for over two hundred years. New Brunswick did have Douglass College, an all female institution where students could take classes at either the Rutgers campus or on Douglass, but it wasn't until late 1969 that the issue of coeducation at both schools was discussed.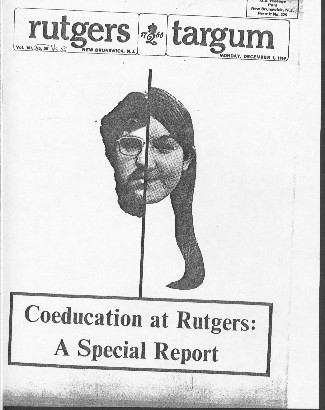 Today it truly is a challenge to find a federal or state sponsored school that does not admit both men and women. However, the controversy remains as females continue to break into what has been traditionally all male institutions such as politics, sports, and military life.
Would you have applied to Rutgers College in 1971?
Take a trip back in time to make the important decision of where you will go to receive your college education. Examine the documents under the headings below to assist you in making your decision.