Question: This scene was controversial in 1930. Why?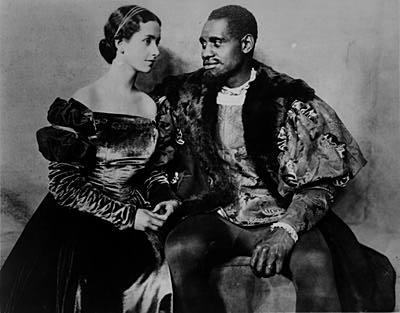 The above photo was a publicity still from the 1930 London production of Shakespeare's Othello. Paul Robeson's portrayal of the title character was considered somewhat controversial in literary and societal circles. First, there was a debate as to who Shakespeare truly intended the title character to be in terms of physical appearance. Othello was described by the Bard as a Moorish General serving the city-state of Venice. Moors, however, were considered to be geographically from North Africa, migrating into Europe via the Muslim domination of the Iberian peninsula. In other words, a Moor would resemble someone Arabic in appearance. Short of asking Shakespeare himself, the casting of Othello would be determined by the director of the production.
Secondly, the nature of the Shakespearean tragedy, especially in 1930, would promote strong reactions in many areas of the globe. Othello eloped with Desdemona, the daughter of the Venetian Senator Brabantio. Desdomona was a white woman married to a man of a different race and culture- a fact that was continuously stressed throughout the play.
Below are excerpts from The Daily News in May 1930 describing Paul Robeson's enthusiasm toward his portrayal of Othello. Read the excerpts to hear in Robeson's words why he found this part to be tailor- made for him. After you have read his words, continue to learn about the play itself.
Excerpt 1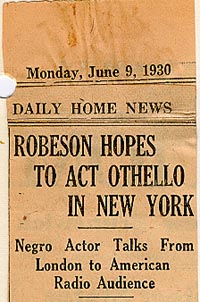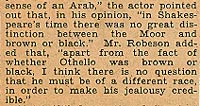 Excerpt 2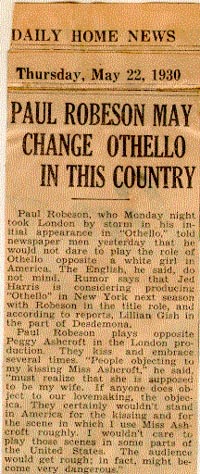 Excerpt 3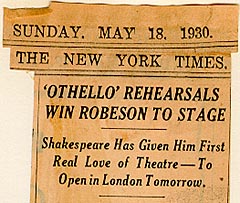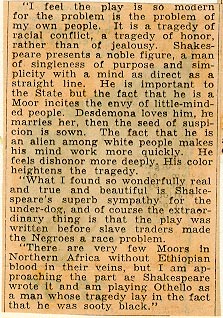 Excerpt 4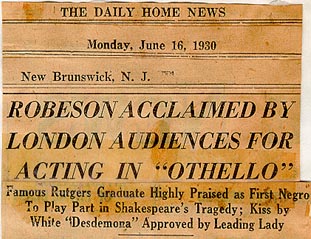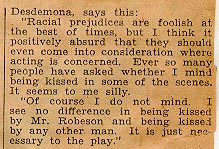 Instructions
Below are brief character sketches of five key players. Read each description closely and address the following questions.
Othello. A Moor who rose to the rank of general in the Venetian Army. Extremely honorable and trusting, he is a new husband who allows his assistant's devious nature to lead him to believe his wife was unfaithful. Twisted with jealousy, Othello kills his wife before the truth was revealed: no adultery was committed. Othello takes his own life in despair for killing his wife.
Desdemona. Wife of Othello, elopes without her father's approval. Possessing a great love for her husband, she tries to protect him from his crime as she lays dying from his hands.
Iago. Othello's assistant having hopes of promotion to lieutenant. The title went to Michael Cassio, and Iago plots revenge. Iago manages to destroy Othello, Desdemona, and his own wife in the process.
Michael Cassio. Othello's new lieutenant, Cassio was a ladies manwho sought constant approval by Iago. In proving loyalty to Iago, he wounds the governor of Cyprus in a drunken battle and is dismissed by Othello. Later in the play, he escapes a murder plot by Iago and becomes the new governor of Cyprus.
Emilia. Iago's wife and Desdemona's aide. Upon realizing Iago's true nature, she attempts to tell Othello. Iago stabs her first, but Emilia is able to make Othello aware of the truth as she lays dying.
Questions for Discussion
Despite the prestige of starring in a Shakespearean production, what made this role attractive to Paul Robeson?
The London production of Othello was performed in 1930, yet despite exceptional reviews, Robeson did not appear in a New York production until the summer of 1942. What factors may have delayed the appearance of Robeson in this role in the United States until 1942?
From what you read in the newspaper excerpts and knowing the nature of this tragedy, what can you deduce about the American theatrical community and its financial backers of the 1930's?