(excerpt taken from the Camp Kilmer Information Office Fact Sheet 1958)
In 1941 the War Department selected the New Brunswick area as the best site for a staging area to serve the port of New York. Construction was started in
January 1942, and Camp Kilmer was officially opened in June of that year.
The post is located two miles east of New Brunswick, an industrial city of (at the time) 38,768 people; 30 miles south of New York; and 55 miles northeast of Philadelphia. Camp Kilmer is locate near US Route 1, the Garden State Parkway, and the New Jersey Turnpike; and has railroad tracks leading to the PA Railroad, Lehigh Valley Railroad, and the Reading Railroad.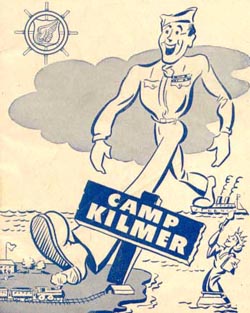 During WWII, the camp was the main staging area for the principle ports on the Eastern Seaboard; more than 20 divisions staged through this post on their way to Europe. In the Fall of 1949, Camp Kilmer was placed in an inactive status, and the Personnel Center activities transferred to Fort Dix. With the onset of hostilities in Korea, Camp Kilmer was reactivated in the Fall of 1950. Section V, Department of the Army General Order 20, dated 11 March 1955, reverted Camp Kilmer back to an inactive status, effective 30 June 1955.
Although Camp Kilmer has been in an inactive status since June 1955, much activity has occurred since that time. In November 1956, Operation Mercy was initiated as a project designed to process the Hungarian refugees. This project remained in effect until June 1957. In March 1958, Headquarters II US Army Corps (Reserve) moved onto the post.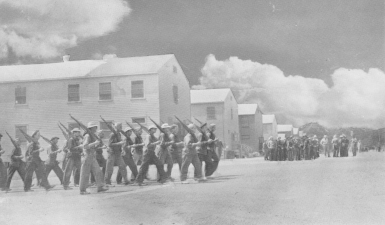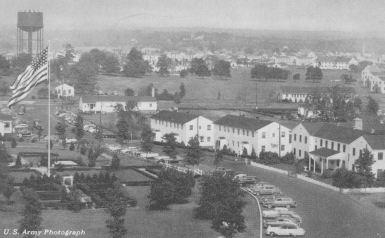 Camp Kilmer is spread over 1,573 acres of land and contains 1,230 numbered buildings and structures, including one complete hospital, one Dental Clinic, one Commissary, one Meat-Cutting Plant, one Cold Storage Plan, four Fire Stations, ten consolidated Mess Halls, and four Theaters are mothballed. There are 29.9 miles of hard surface roads throughout the camp plus 1 mile of unpaved road. Not all of these roads are in general use as inactive areas have been declared Restricted in the interests of security and fire prevention.
The Commanding General of the US Army Garrison, Camp Kilmer, is responsible for the command, training and operations of First US Army units and activities assigned to Camp Kilmer, the preparation, coordination, and implementation, as directed, of plans with other agencies which include Air Raid, Domestic Emergency, Civil Defense, Mobilization, and Local Defense, and the providing of logistical and administrative support, within existing facilities, to First US Army units and activities located at Camp Kilmer, including support of training exercises as directed by the Commanding General First United States Army.
In the interest of economy and efficiency, the Headquarters Detachment, II US Army Corps was attached to the US Army Garrison on 13 August 1958. Under the supervision of the Deputy Post Commander, the Troop Commander commands the enlisted personnel of both II US Army Corps and US Army Garrison.