Essential question
How does the timeline of women's basketball mirror the progress of American women?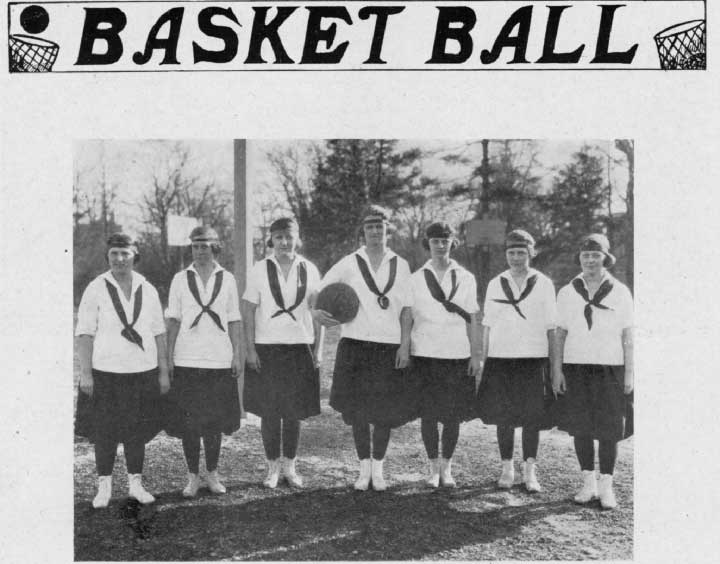 "The players we have in this program are outstanding examples of Rutgers student athletes."
Former Coach Theresa Grentz
Scarlet Letter (Rutgers University Yearbook). 1995. 150. Special Collections and University Archives, Rutgers University Libraries. Date Accessed 15 July 2010. Print.
Basketball at Rutgers University
In 1972 the first freshman class of women came to Rutgers College. This was the same year that Title IX legislation secured equal opportunities for women at educational institutions, which included participation in sports. Prior to 1972, Douglass College offered the only women's sports available at Rutgers University. Additionally, no formations of female athletic activities at Rutgers College were even discussed prior to the actual transition to co-education.
Rutgers had in no way prepared for women to participate in any type of athletics when the school was to go co-education in 1972. The only sport that women participated in within the 1972-73 school year was cheerleading. The first mention of any activity in any other sports was not made until the start of the 1973-74 school year, when there was an announcement that Rutgers College was forming a Women's Jogging Club. In 1973 if a woman wanted to participate on an athletic team, she was forced to compete under Douglass or Livingston College. In late December in 1973, however, a basketball game was held between Rutgers and Douglass Colleges. Douglass won, as well as, the re-match that was conducted a week later. By the end of 1973, the formation of the first Rutgers College women's basketball club was started. This would only be the beginning of women's interest in basketball at Rutgers.
It was on December 17, 1974 that the first ever inter-collegiate Rutgers Women's Basketball game was played. The Lady Knights defeated Princeton University, 76-70. In the team's first year, under the direction of coach Ellen Johns, they finished with 6 wins and 5 losses. The 1975-76 squad with new coach Dottie McCrea, finished with a 5-9 record. This would be the first and final year that Rutgers women's basketball would complete the season with a losing record.
The following is a timeline provided by the official website of Rutgers Women's Basketball team. Please see this website for updates and game schedules.
December 17, 1974   The Beginning In its first ever women's basketball contest, Rutgers defeats Princeton 76-60, in Piscataway.

Theresa Grentz, Head Coach (1976-1995)
August 1976   Dynasty Begins Theresa Shank Grentz is named Rutgers' first full-time women's basketball coach and becomes the first in the nation.
March 15, 1980   Century Mark The 100th victory of the program, a 70-54 win over Providence.
December 17, 1974   The Beginning In its first ever women's basketball contest, Rutgers defeats Princeton 76-60, in Piscataway.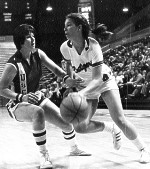 June Olkowski
March 21, 1980   Final Eight Led by Joanne Burke and June Olkowski combining for over 30 points per game, Rutgers caps off a 28-5 season by making it to the Final Eight in the AIAW National Tournament.
March 1981   All-American After averaging 18.8 points and 9.5 rebounds per game during the 1980-81 season, Kris Kirchner is named a Kodak-All-American, the first in Scarlet Knight women's basketball history.
December 17, 1974   The Beginning In its first ever women's basketball contest, Rutgers defeats Princeton 76-60, in Piscataway.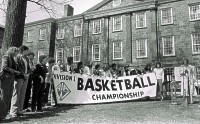 1982 AIAW National Champions
March 28, 1982   Champs!! Tournament MVP Patty Coyle scores 30 points and Terry Dorner adds 25 as Rutgers wins the AIAW National Championship with a thrilling 83-77 victory over Texas.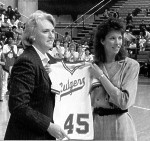 June Olkowski number is retired.
March 1982   Olkowski Honored June Olkowski, who averaged 19.6 points and 10.1 rebounds for the season, becomes only the second Rutgers player to be named a Kodak All-American. She later becomes the only women's basketball player to have her jersey retired.
Jan. 2. 1985   200 Wins Led by freshman Sue Wicks' 23 points, Rutgers captures the 200th victory in the program's history, a 66-63 decision over Big Eight foe Missouri.
March 1986   NCAA Following a 27-3 regular season, including a perfect 14-0 at home, RU garners its first NCAA Tournament berth and advances to the East Regional Final.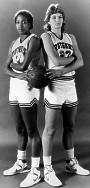 Inducted together into the Rutgers Hall of Fame Class of 1994, the formidable duo "Wicks and Sticks"
March 1986   Another All-American Following her sophomore season, Sue Wicks becomes the third Rutgers player named to the Kodak All-American team, the only underclassman on the 10-member squad. It is the first of three straight Kodak All-American honors for Wicks.
March 7, 1987   A-10 Champions With a 93-48 win over St. Joseph's, the Knights add another Atlantic 10 Championship to its 30-win season and No. 5 national ranking.
March 1988   Back-to-Back Rutgers repeats as A-10 Tournament Champions and caps off its third consecutive undefeated season at home en route to a 27-5 record and NCAA Sweet Sixteen appearance.
April 1988   Wicks is Best Three-time All-American Sue Wicks, who scored a whopping 2,655 points on the "Banks," is named Naismith Player of the Year as the nation's best female basketball player.
December 7, 1988   300 Wins 300th win in Scarlet Knight women's basketball history, a 74-71 defeat of St. John's.
March, 1989   Team of the year, again! Following a 24-7 season which included a fourth straight trip to the NCAA Tournament, Rutgers is named ECAC Team of the Year for the fourth consecutive season.
February 15, 1993   400 Wins In the midst of an eight-game winning streak, Rutgers picks up the 400th win of the program's history, a 63-37 conquest of Army at the RAC.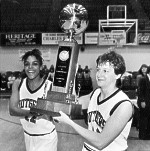 Vicky Green and Cheryl Cop with the 1993 Atlantic 10 Championship Trophy
March 15, 1993   Return to Victory Lane Regina Kalucki's 20 points help break open a halftime deadlock and bring the Atlantic 10 Conference Tournament title back to the "Banks" with a 59-51 victory over St. Joseph's.
January 17, 1994   Upset of the Decade Caroline DeRoose's 35 points lead Rutgers to an 87-77 victory over the nation's No. 1 ranked team, Tennessee. It marks the first and only time that an unranked team has defeated the No. 1 team in the nation.
March 13, 1994   Repeat Rutgers avenges a 3-point halftime deficit to repeat as Atlantic-10 Tournament Champions with a 79-71 victory over George Washington.
March 16, 1994   Nine in a Row Rutgers advances to the NCAA Tournament for the ninth straight season and posts their ninth straight 20+ win season.
July 14, 1995   A New Era Begins C. Vivian Stringer is hired as the fourth Scarlet Knight women's basketball coach.
November 25, 1995   Upset! In C. Vivian Stringer's first game as Rutgers coach, the Scarlet Knights upset No. 7 Penn State, 69-67, at the RAC.
January 2, 1996   A New Tradition Rutgers wins its first BIG EAST game, a 71-64 win over Providence.
February 18, 1996   Sellout! A crowd of 7,793 packs the RAC to watch the University of Connecticut take on the Scarlet Knights, the first advance sellout ever for a Rutgers women's basketball game.
February 10, 1998   Upset City New Brunswick was upset city on Tuesday, February 10 as Rutgers knocked off No. 2 ranked Connecticut 74-70 in front of 4,108 fans at the Louis Brown Athletic Center. Rutgers became the first program to be unranked and defeat a No. 1 and a No. 2 team (defeated No. 1 ranked Tennessee on January 17, 1994).
March 1, 1998   Play it at the RAC For the first time, the BIG EAST Women's Basketball Tournament was played at Rutgers' Louis Brown Athletic Center in front of record crowds. Rutgers drew 5,323 fans for the championship game between Rutgers and Connecticut. It was the ninth-largest crowd to witness a BIG EAST Tournament game and the fifth largest crowd for a women's basketball game at Rutgers. The semifinal game and quarterfinal rounds also ranked in the top 25 all-time in BIG EAST Tournament history.
March 23, 1998   Sweet Sixteen The Scarlet Knights advanced to the Sweet 16 of the NCAA Tournament after entering as the No. 5 seed in the Mideast and defeating Oregon (79-76) and Iowa State (62-61). In the Mideast Regional semifinal, Rutgers fell to eventual national champion and No. 1 Tennessee 92-60 in Nashville, Tenn.
December 22, 1998   500 wins 500th win in basketball history, a 81-61 defeat of Maryland in College Park.
January 2, 1999   History at the Garden The Scarlet Knights were part of the first women's college basketball game at Madison Square Garden in 18 years as they took on No. 1 Tennessee in front of 15,735 fans.
January 27, 1999   Record Attendance The Scarlet Knights played the nation's No. 2 team, UConn, to within one point in front of a sellout crowd of 8,526 at the Louis Brown Athletic Center.
March 22, 1999 Rutgers advanced to the Elite Eight of the NCAA Tournament after receiving the No. 3 seed in the Midwest Region. The Knights won three games in the NCAA Tournament for the first time in history, including a record-setting, upset victory over the No. 2 seed Texas Tech. Rutgers third-in-the nation defense allowed the Red Raiders just 11 points in the first half to set an all-time NCAA Regional low mark. For the second year in a row, the Knights bowed out of the tournament to the eventual national champion, this time Purdue. Shawnetta Stewart and Tasha Pointer were named to the all-Regional Team.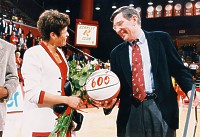 C. Vivian Stringer became the third women's basketball coach to earn 600 win
December 18, 1999   600 wins Head Coach C. Vivian Stringer became the third women's basketball coach to earn 600 wins when the Scarlet Knights defeated Texas 68-64 at the Louis Brown Athletic Center. Significantly, the win occurred against Texas head coach Jody Conradt, who along with Tennessee's Pat Summit, is the only other women's coaches to pass the 600-win mark.
February 12, 2000   Attendance Record Broken The Scarlet Knights set an all-time attendance record with a sellout crowd of 8,579 fans on February 12, 2000. Rutgers hosted the nation's No. 1 team, the Connecticut Huskies.
March 7, 2000   So CloseAfter topping Villanova (61-32) and Notre Dame (81-72 in OT), Rutgers advanced to the BIG EAST Tournament Championship game at Gample Pavilion in Storrs, CT. The Knights faced Connecticut for the third time in 2000, losing a 79-59 decision to the eventual national champions.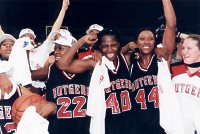 2000 Final Four Team
March 31, 2000   And then there were four C. Vivian Stringer became the only coach, male or female, to take three different programs to the Final Four. Rutgers advanced to its first-ever NCAA Final Four with a stunning 59-51 win over the No. 1 seeded Georgia Bulldogs in the West Region Championship Game. Shawnetta Stewart was named the West Region MVP while Tasha Pointer and Tammy Sutton-Brown earned all-tournament honors. Rutgers faced No. 2 Tennessee 65 miles from campus in Philadelphia where the dream season ended with a 64-54 loss.
April 25, 2000 Two More for the League Shawnetta Stewart (Orlando Miracle) and Usha Gilmore (Indiana Fever) are both third-round selections in the 2000 WNBA Draft.
February 17, 2001 Undefeated No More Rutgers stuns top-ranked Notre Dame by handing the Irish their first loss of the season, a 54-53 decision at the Louis Brown Athletic Center. The crowd of 8,587 establishes a new RU record and the game is the second advance sellout in Scarlet Knight women's basketball history.
March 17, 2001   Four in a Row Rutgers makes its fourth consecutive NCAA Tournament appearance and defeats 13th-seeded Stephen F. Austin 80-43. The fourth seed in the West Region, Rutgers hosts first- and second-round games for the third straight year. The Knights later fall to fifth-seeded and eventual Final Four participant Southwest Missouri State 60-53 in the second round.
April 20, 2001   Creating A Habit For the second consecutive year, two Rutgers players are selected in the WNBA Draft -- Tammy Sutton-Brown (second round, Charlotte Sting) and Tasha Pointer (fourth round, Portland Fire).
June 9, 2001   Hall of Famers Current head coach C. Vivian Stringer and former Rutgers mentor Theresa Grentz are both part of the 2001 induction class into the Women's Basketball Hall of Fame in Knoxville, TN.
January 23, 2002   Another Milestone Head coach C. Vivian Stringer becomes the third coach in women's basketball history to win 650 career games when the Scarlet Knights defeat Seton Hall 47-43 in Piscataway.
February 23, 2002   Sold in Advance Rutgers has its third-ever advance sellout when 7,223 fans witness the Knights battle No. 1 and eventual national champion Connecticut.
April 19, 2002   That Makes Five Davalyn Cunningham becomes the fifth member of the 2000 Final Four team to be selected in the WNBA Draft when she is taken in the second round (23rd overall) by the Orlando Miracle.
March 24, 2003   About Face Rutgers pulls off the most dramatic turnaround in Division I, improving from a 9-20 record in 2001-2002 to a 21-8 mark and a trip to the NCAA Tournament's second round in 2002-2003.
Nov. 14, 2003   600 Wins Rutgers records its 600th victory, a 58-40 win against Saint Peter's in the first round of the Women's Preseason NIT in Piscataway.
Feb. 14, 2004   No More Tickets The Scarlet Knights record their fourth advance sellout as 7,734 fans pack the RAC to see Rutgers face No. 2/1 Connecticut.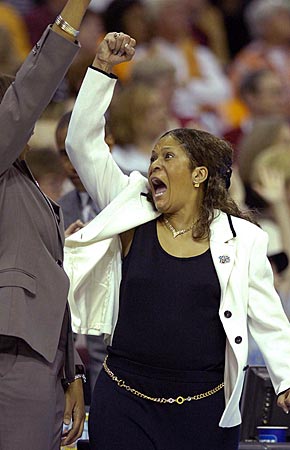 December 8, 2004   700 Victories C. Vivian Stringer becomes the fourth women's Division I coach to earn 700 career victories with a 68-46 win against Princeton in Piscataway.
January 5, 2005   Trifecta Rutgers defeats No. 1/1 LSU 51-49 in overtime at the RAC, completing an eight-day span that saw the Scarlet Knights defeat three top-10 teams (68-51 vs. No. 8/8 Tennessee Dec. 29, 51-47 at No. 4/3 Texas Jan. 2).
January 26, 2005   Moving On Up C. Vivian Stringer moves into third place on the Division I victories list (709) with a 71-60 win at No. 14/13 Boston College.
February 13, 2005   Sold Out RU records its fifth advance sellout as 8,014 fans see the No. 11/11 Scarlet Knights defeat No. 10/10 Connecticut 76-62.
March 1, 2005   Outright Champions Rutgers (14-2) secures its first outright BIG EAST Conference regular-season title with a 51-39 win at Villanova.
March 27, 2005   Eight is Great The Scarlet Knights advance to their first Elite Eight in five years with a 64-58 victory against No. 8/7 Ohio State in the NCAA Tournament's Sweet Sixteen. Cappie Pondexter, the Most Outstanding Player of the Philadelphia Region, leads the entire NCAA Tournament field with her 24.0 points per game.
April 16, 2005   Pair of Picks Chelsea Newton (second round, Sacramento Monarchs) and Rebecca Richman (third round, New York Liberty) are selected in the 2005 WNBA Draft.
February 27, 2006   BIG-Time Perfection Rutgers overcomes an 18-point deficit to defeat No. 7/6 Connecticut 48-42 at the RAC, putting the final exclamation point on a perfect 16-0 BIG EAST record and winning its second straight outright league regular-season crown. The game was the sixth advance sellout for RU.
April 5, 2006   Cappie's Dream a Reality Cappie Pondexter realizes her dream when she is selected second overall by the Phoenix Mercury in the 2006 WNBA Draft. Her impact on the league is immediate, ranking among the WNBA's scoring leaders and earning a spot on the 2006 WNBA All-Star Team and All-Rookie Team.
March 6, 2007   BIG EAST Champs The No. 2-seeded Scarlet Knights won their first-ever BIG EAST Championship with a 55-47 victory over top-seeded Connecticut in Hartford. Facing the fifth-highest scoring team in the nation, Rutgers used its stifling defense to control the tempo of the game and limit UConn to its lowest point total all season. The No. 19/21-ranked Scarlet Knights gave head coach C. Vivian Stringer her first and the school's first BIG EAST Women's Basketball Championship crown, while handing the No. 2/3-ranked Huskies just their third loss of the season. Junior Matee Ajavon was tabbed Most Valuable Player of the Championship.
March 24, 2007   #1 Duke Goes Down Rutgers pulled off a stunning come-from-behind win over Duke, the top seed in the NCAA Tournament, in the Sweet Sixteen round. The Scarlet Knights, who lost to the Blue Devils by 40 points earlier in the season, overcame a 10-point deficit to pull off the 53-52 victory in the Greensboro Regional. Junior Essence Carson said after the win, "We kept saying, 'Believe.' No matter how much we were down by." Matee Ajavon was named Most Valuable Player of the Regional and Kia Vaughn and Carson earned All-Regional accolades.
April 1, 2007   Final Four Again Juniors Matee Ajavon and Essence Carson combined for 31 points, and the stifling Rutgers defense held LSU to its lowest point total this season, to lead the Scarlet Knights to a 59-35 victory in the NCAA National Semifinal Game at Quicken Loans Arena in Cleveland. The win was the Scarlet Knights' eighth consecutive and advanced them to their first national championship game.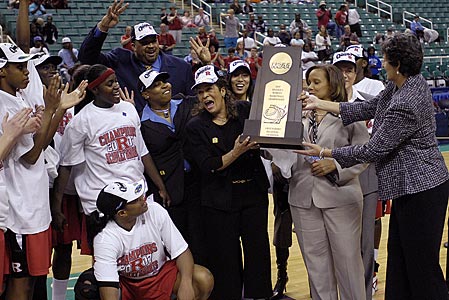 February 27, 2008   800 Wins Head coach C. Vivian Stringer becomes the third women's basketball coach to earn 800 career wins when the Scarlet Knights defeat DePaul 60-46 at the Louis Brown Athletic Center.
April 9, 2008   WNBA Bound Ajavon and Carson were the No. 5 and No. 7 WNBA selections, respectively, in the 2008 WNBA draft. Ajavon was the fifth overall pick of the Houston Comets while Carson was tabbed seventh overall by the New York Liberty. They were the first two RU players selected simultaneously in the WNBA draft. The duo had helped the Scarlet Knights compete in their second straight regional final eight days earlier.
April 9, 2009   Professional Career Begins Kia Vaughn was the fourth RU player drafted since 2006 when her name was called by the New York Liberty with the eighth overall selection in the 2009 WNBA Draft. Vaughn finished her Scarlet Knights career as the program's all-time leader in games played (135) and second all-time in rebounds (1079) and blocked shots (279).
Sept. 11, 2009   Enshrined in the Hall Stringer - the first coach, male or female, to take three different teams to the NCAA Final Four- is enshrined into the Naismith Memorial Basketball Hall of Fame at Symphony Hall in Springfield, Mass. The coaching legend enters the Hall with NBA greats Michael Jordan, David Robinson, John Stockton and Jerry Sloan. Stringer closed her moving speech with the following words- "To all my basketball daughters, I love you and thank God for you. I thank all of you for the privilege you have given me to stand here and be a basketball coach here tonight."
Quoted and/or adapted from:
Pescator, Chris. "Tradition on the Banks: A History of Rutgers Women's Basketball." History Seminar with Professor Mary Trigg. Spring 1994. Women at Rutgers: A Living History, 1993-1995 Collection. Special Collections and University Archives, Rutgers University Library. Date Accessed 15 July 2010.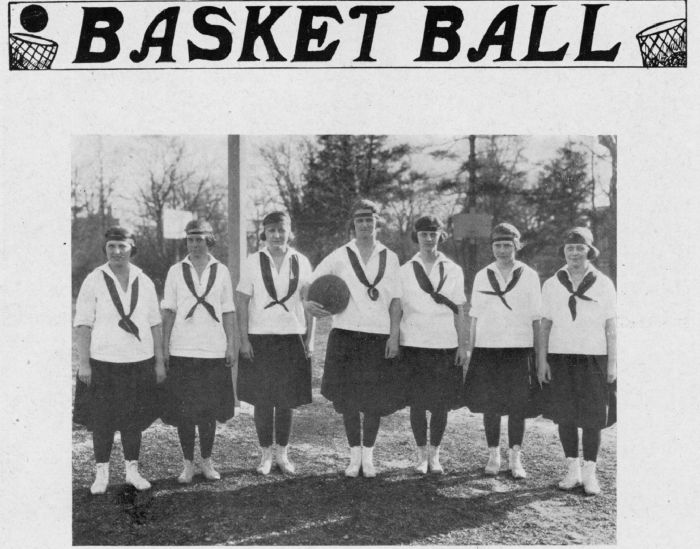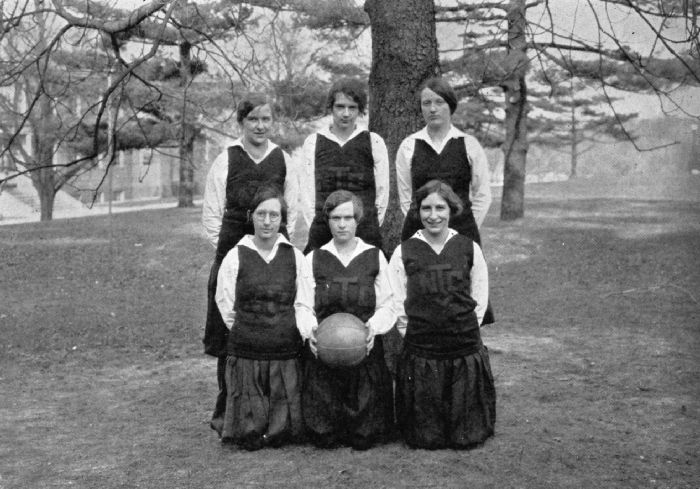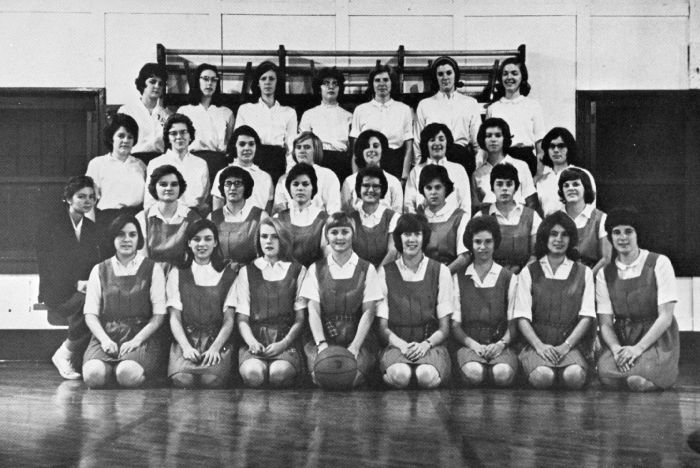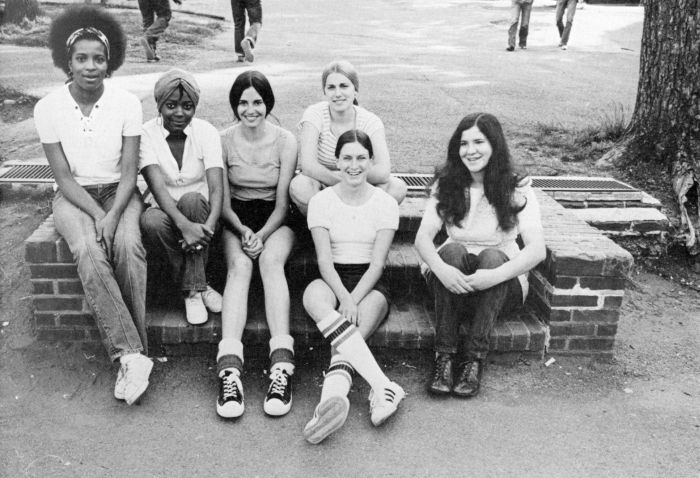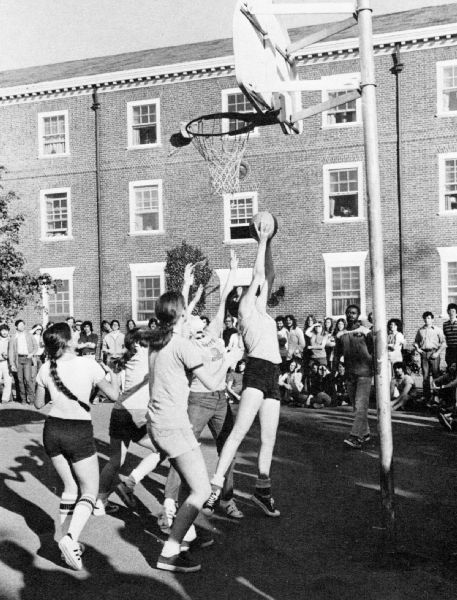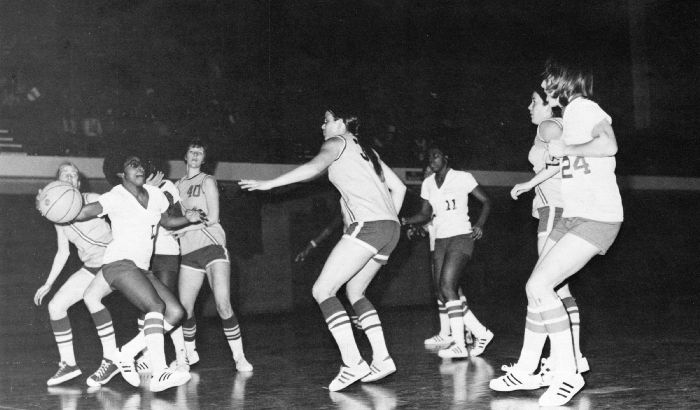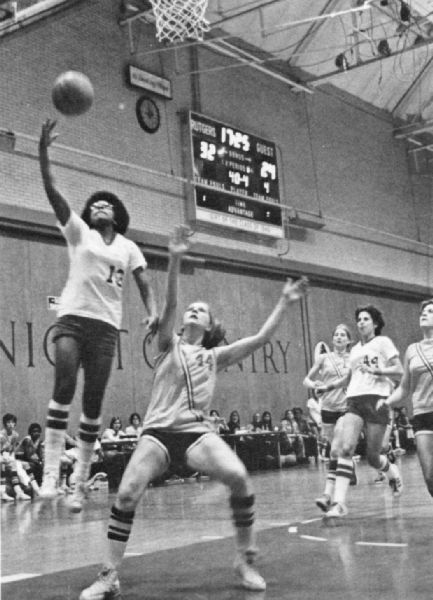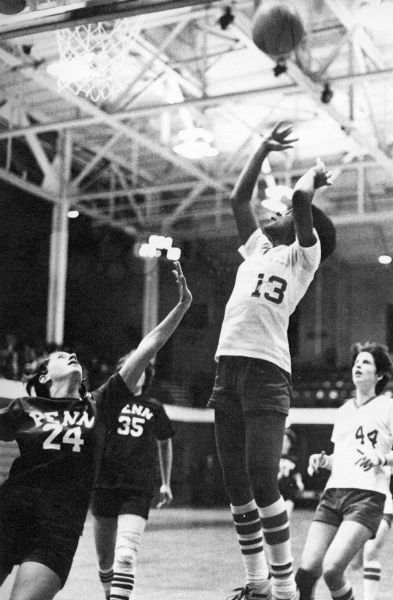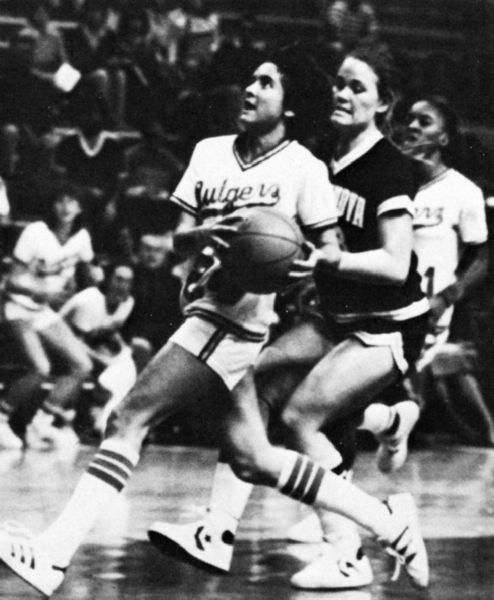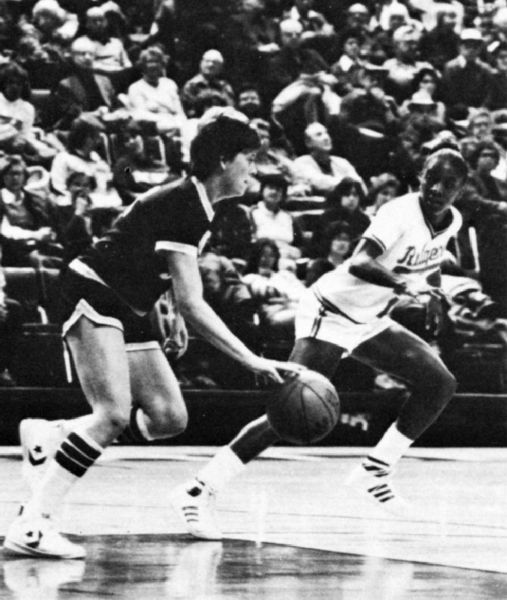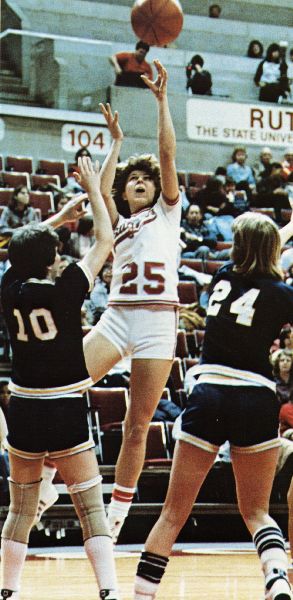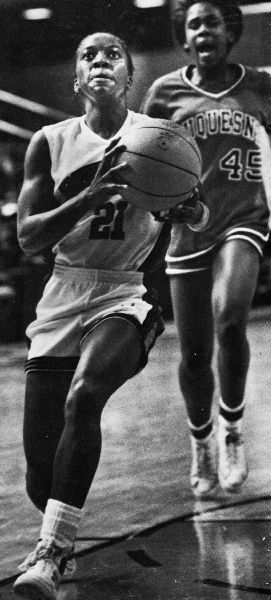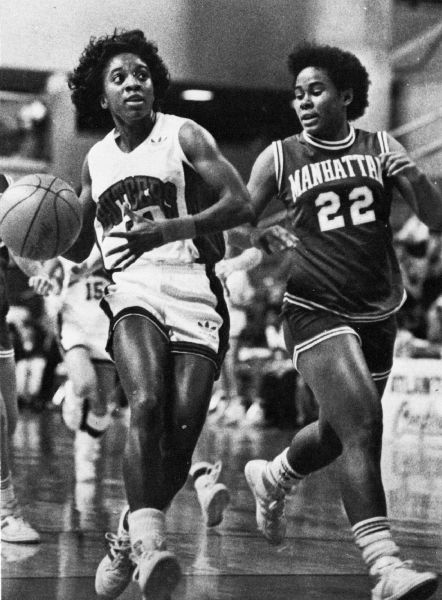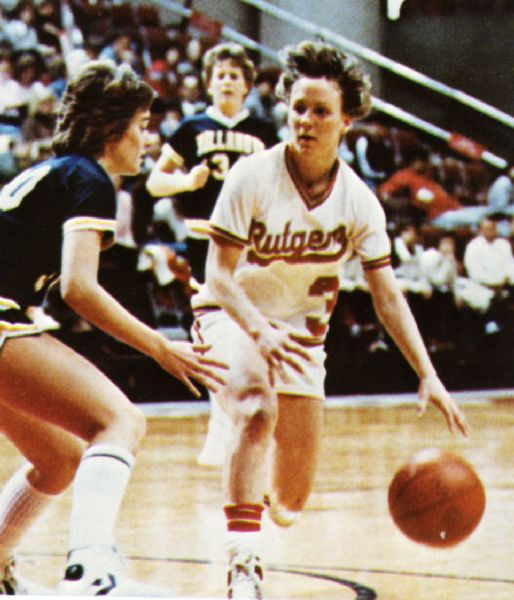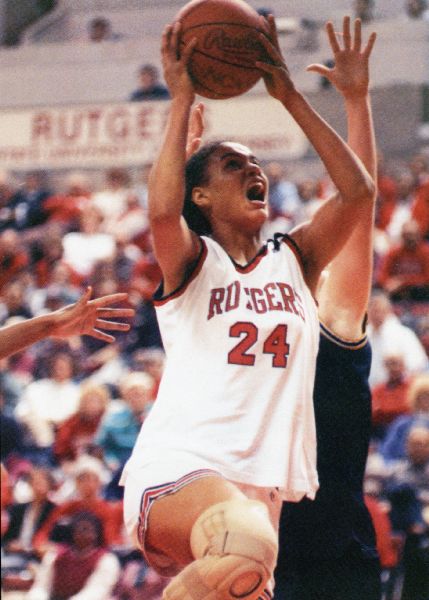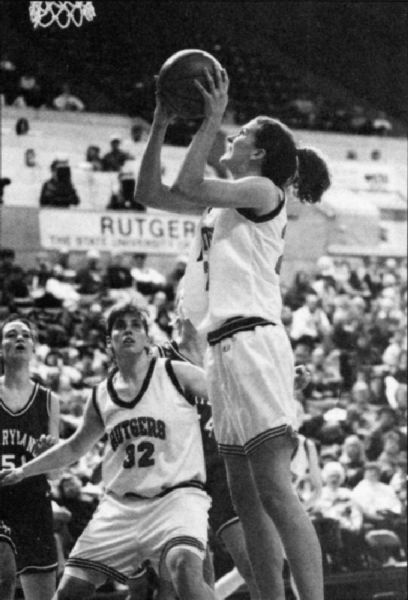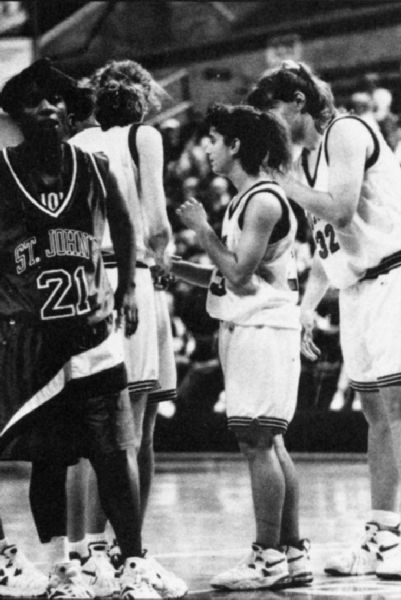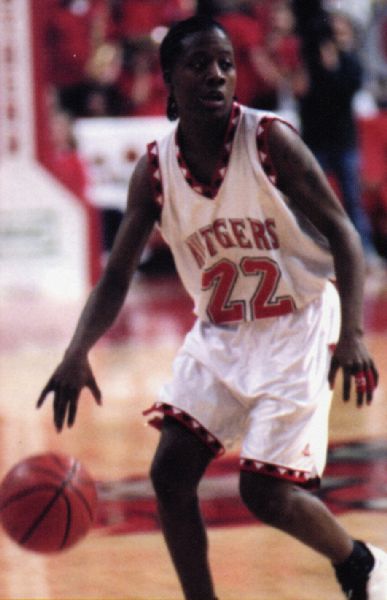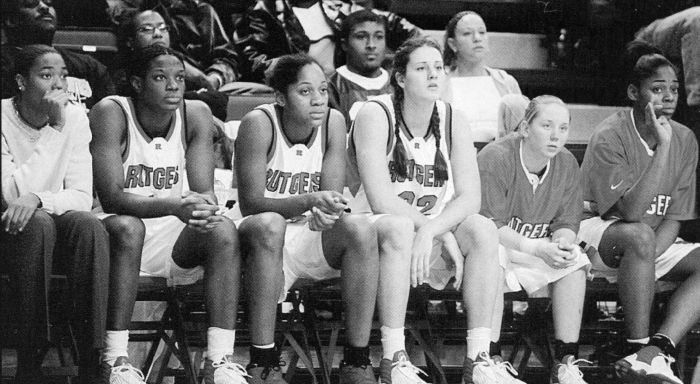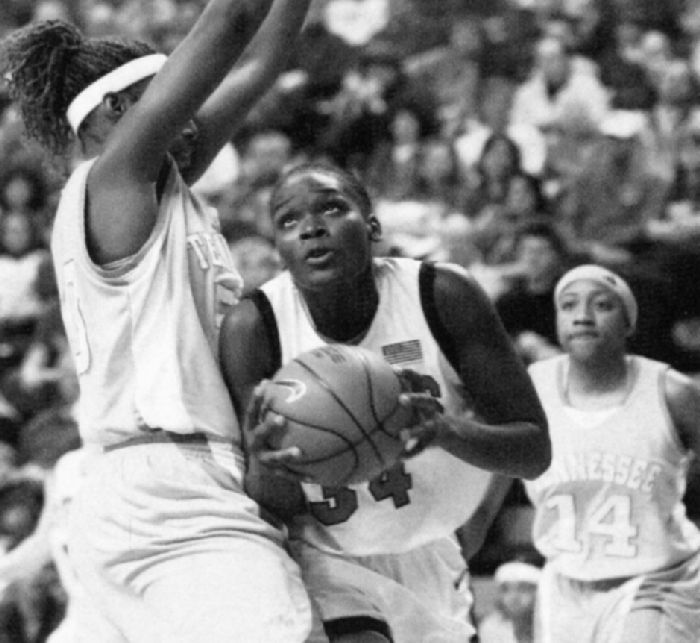 Previous
Next
Extension
Have students research the success of former Rutgers players. (You may also pick a university closer to your school.)
Possible questions
Have any Rutgers graduates played for the WNBA? (If so, who and for what teams?)
Are any former Rutgers players coaching for other college programs?
Are there any Rutgers alumni in your community? Who were the most successful players, and where are they now?
Students could also research the life/careers of some of Rutgers most successful players, such as Sue Wicks, Cappie Pondexter, and Essence Carson.
Example Student Activity
The following documents were created by a U.S. History II teacher, who piloted this module, to help students analyze the evolution of women's basketball at Rutgers University as well as women's changing role in America.