Essential question
How do images from various time periods reflect social norms or customs?
Women as Athletes
Women's role and depiction in sports and athletics has a vast history that links to women's place in society. From the Gibson girl of the early 20th century riding a bicycle to the Olympic athletes of today, the portrayal of women as athletes has been a complex and debated issue.
"I learned to ride [a bicycle]. I also wanted to help women to a wider world, for I hold that the more interests women and men can have in common…the happier it will be for the home. … I did it from pure natural love of adventure..." Frances Willard, women's rights advocate and leader of the Women's Christian Temperance Union (WCTU)
Fears about women being active and athletic in the early 1900s focused on women acquiring a "bicycle face" (a strained, intense, unladylike appearance) if she was too enthusiastic. In the 1920s, women photographed in bathing suits were referred to as "bathing beauties", but the images generated concerns about modesty. From the 1920s to the 1960s, women's athletics were limited to "appropriate" physical activities and generally individual sports, such as figure-skating, gymnastics, tennis, swimming, and diving—all sports that would enhance and display women's "inherent" femininity.
At Douglass College (formally known as New Jersey College for Women), the historically women's only school at Rutgers University and now one of the university's campuses, women's involvement in sports has a rich history. In the early years, women participated in athletic activity through the Athletic Association and competed informally at the school. Douglass featured basketball, volleyball, field hockey, fencing and soccer teams during the early part of the 20th century. In the 1930s, women's athletics became more competitive when a new policy was put into place to allow the school's varsity sports inter-collegiate play.
"But the greater physical fitness made us better able to participate in group sports which in turn taught us to work together as a coordinated team." Douglass College, The Quair, 1944
Douglass emphasized athletics in its curriculum by having strict gym attendance rules as well as campus-wide "sokoling" (a Czech form of gymnastics) sessions. In the 1950s and 1960s, swimming became a popular addition at Douglass. With the Civil Rights Movement and Women's Rights Movement shaping society, changes were on the horizon for Douglass College and Rutgers University. In the early 1970s, Douglass College decided to remain a women's only environment, while Rutgers opted to move toward co-education.
The 1972-73 school year, witnessed the ending of a 206 year old tradition of "men only" at Rutgers College, a subject which had been debated since 1880. Six hundred women became the first of their gender to register at Rutgers College since its founding in 1766. The 475 freshmen women and 125 transfers were exceptionally bright. The average freshmen, for example, graduated in the upper seven percent of her high school class.
During the 1974-75 school year, Rutgers University officially began its women's intercollegiate athletic program with seven sports: basketball, softball, swimming and diving, tennis, field hockey, and indoor and outdoor track. In 1975-76, crew and gymnastics began, and in 1977-78, volleyball, golf, and fencing were added. Women's soccer was not added until 1984. As of 2010, Rutgers features 14 NCAA Division I women's athletic programs.
Following with societal standards, images of women as athletes have evolved over time. In the early 20th century, women were typically shown in passive or stationary poses. Since women's sports were generally limited to individual sports or those that reinforced women as hyper-feminine, images of athletic women traditionally emphasized women in a similar manner. Pictures of women in athletic posture were rare, with women more typically portrayed as demure and delicate beings. Athletic women were photographed seated or posed; sometimes they held a ball or sticks, but often the images would not reflect the sport they played.
Throughout the latter part of the 20th century, women's roles in society changed, and so too did their depiction as athletes. Emphasis on women as passive beings continues through today, but we also see a greater number of women in strong, active positions that show off their talent and athleticism.
"Some believed the rules [Title IX] did not go far enough. They wanted a ban on stereotypes in textbooks, which frequently painted boys as daring, smart, aggressive and girls as passive, frail and 'sissies.'" Karen Blumenthal, author of Let Me Play: The Story of Title IX
Title IX's passage in 1972 represents a major shift in the portrayal of women. Title IX challenged people's viewing on what it meant to be a woman. The legislation also allowed women greater opportunities to compete and thereby, opened the door for women to exert their athletic abilities.
Quoted and/or adapted from:
Blumenthal, Karen. Let Me Play: The Story of Title IX: the law that changed the future for girls in America. New York: Atheneum Books for Young Readers, 2005. 69. Print.
"Coeducation." Scarlet Letter (Rutgers University Yearbook). 1973. 46. Special Collections and University Archives, Rutgers University Libraries. Date Accessed 15 July 2010. Print.
Carlisle, Margaret and Michael A. Messner. "The Media Image of Sports and Gender." MediaSport. Ed. Lawrence A. Wenner. New York: Routledge, 1998. 170-185. Google Books Online. 2010. Web. 15 July 2010.
"New Ideas, New Physiques, The Body Beautiful." Quair (New Jersey College for Women Yearbook). 1944. Special Collections and University Archives, Rutgers University Libraries. Date Accessed 15 July 2010. Print.
Staurowsky, Ellen J. et al. "Gender Equity in Physical Education and Athletics." Handbook for Achieving Gender Equity Through Education. New York: Routledge, 2007. 384. Ed. Susan S. Klein. Google Books Online. 2010. Web. 15 July 2010.
Willard, Frances E. "How I Learned To Ride the Bicycle (1895)." Out of the Bleachers: Writings on Women and Sport. Ed. Stephanie Twin. Old Westbury, N.Y.: Feminist Press, 1979.
Photo Analysis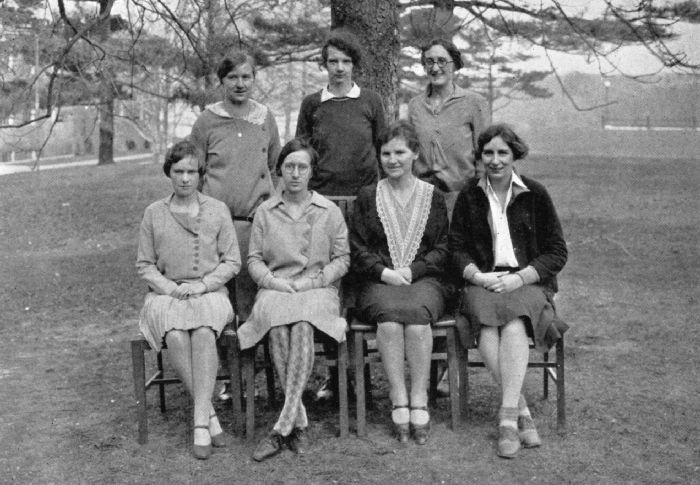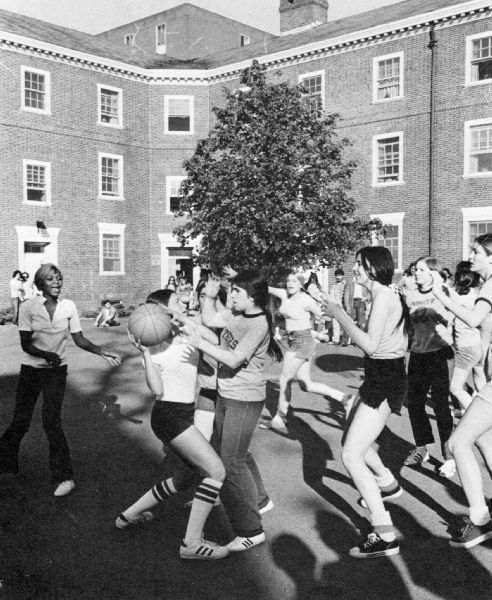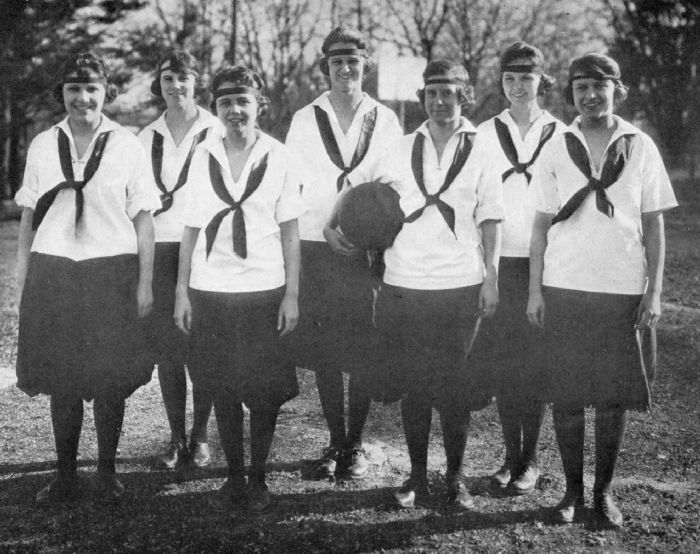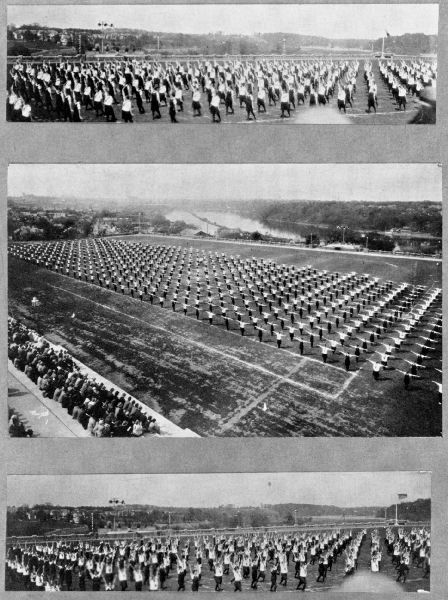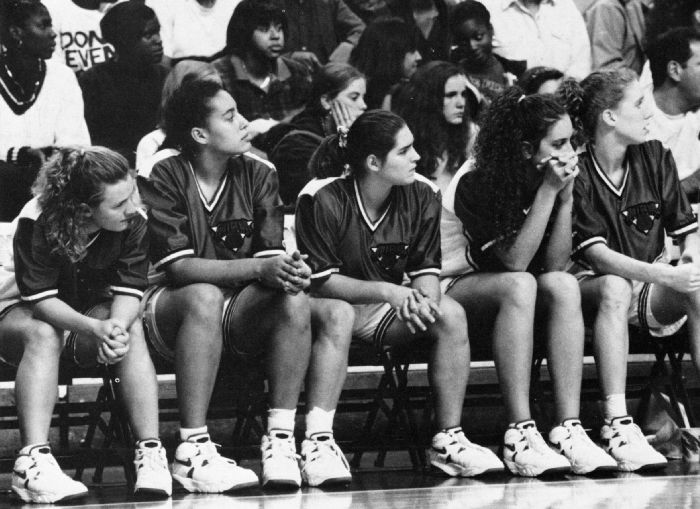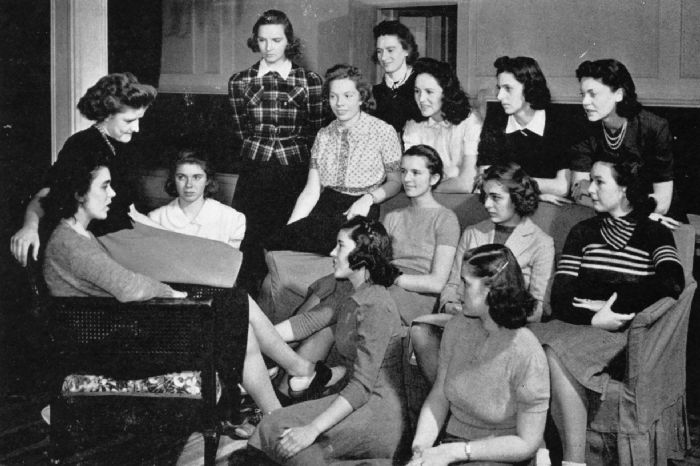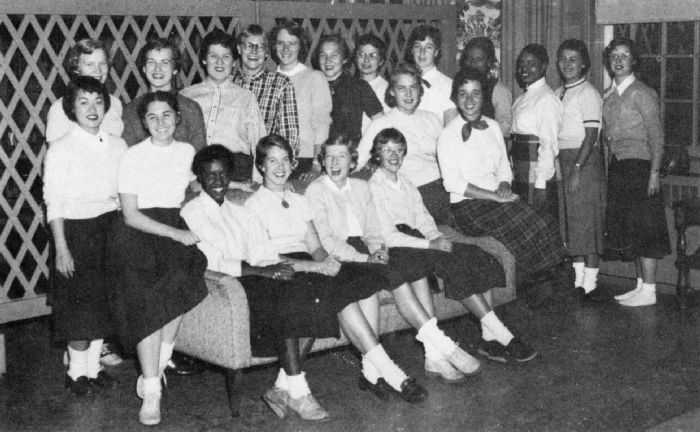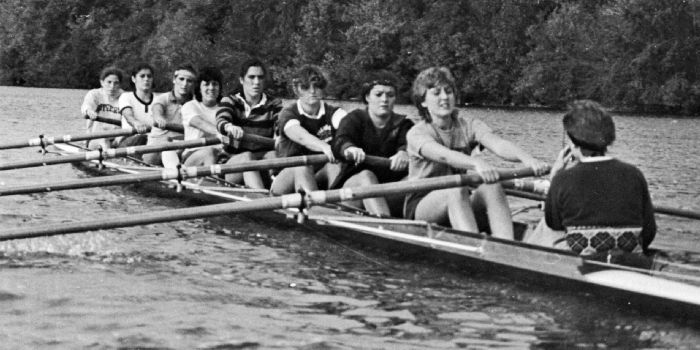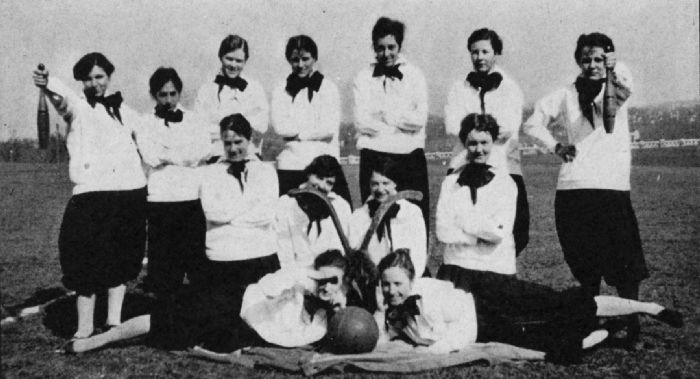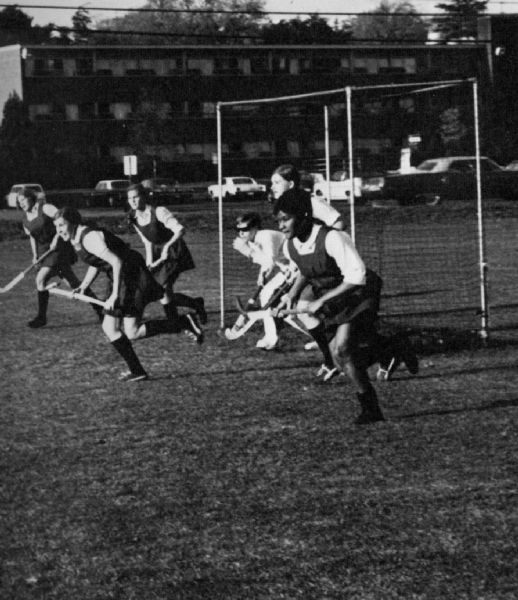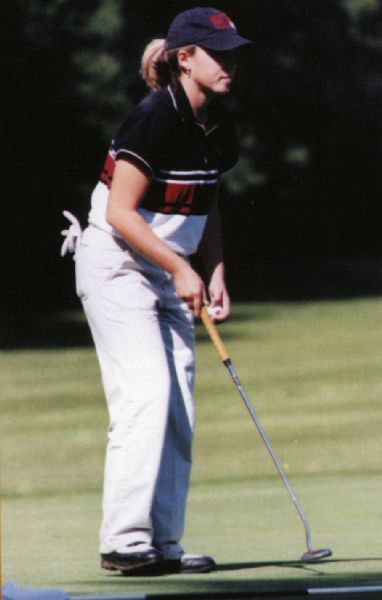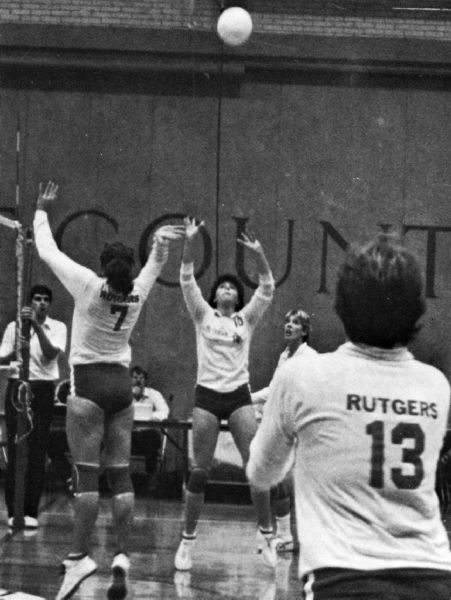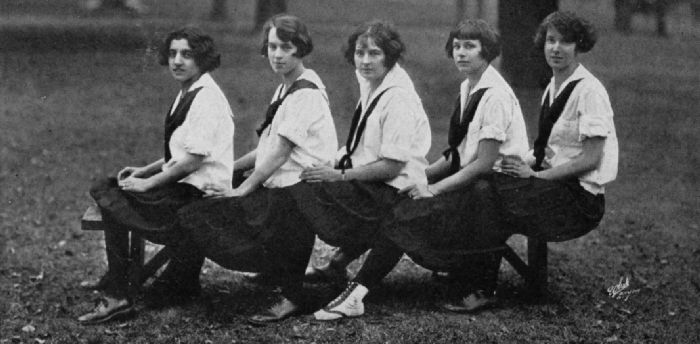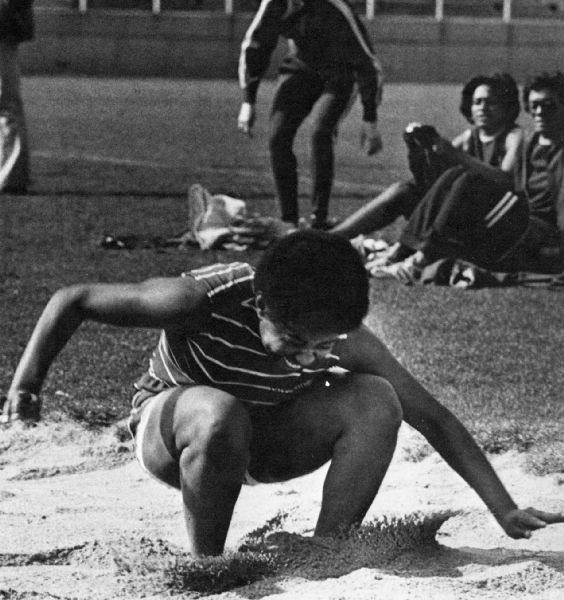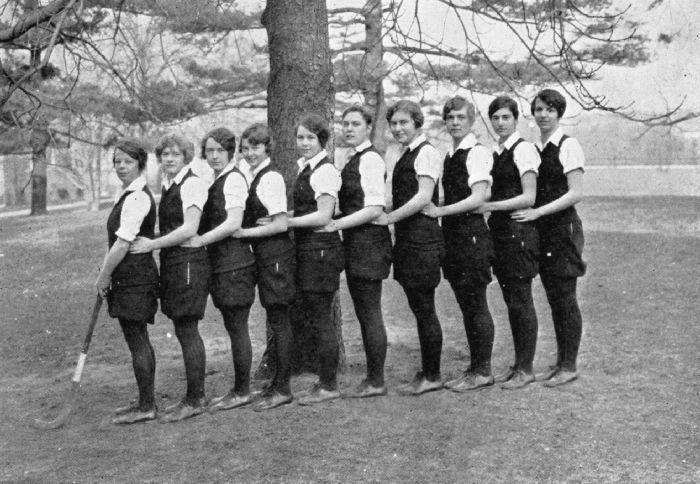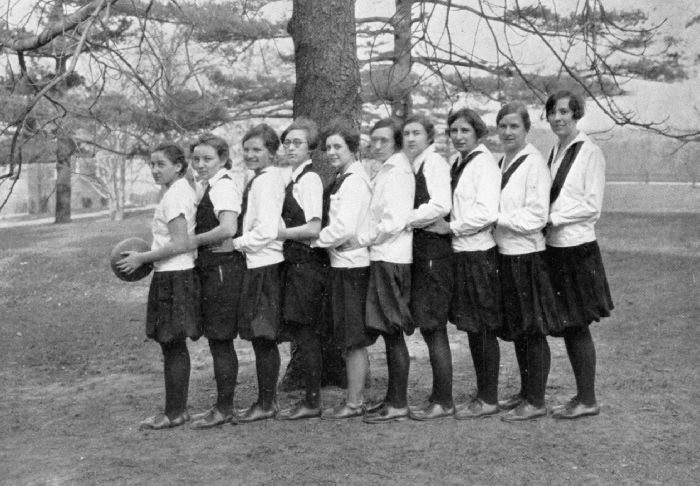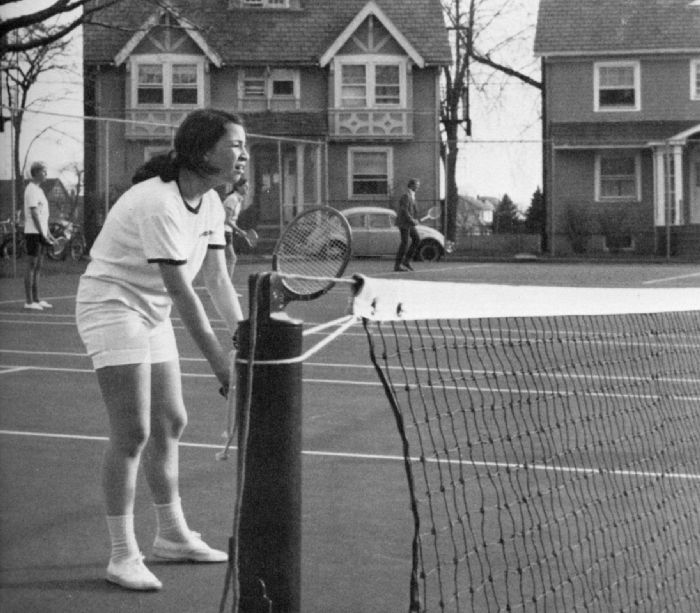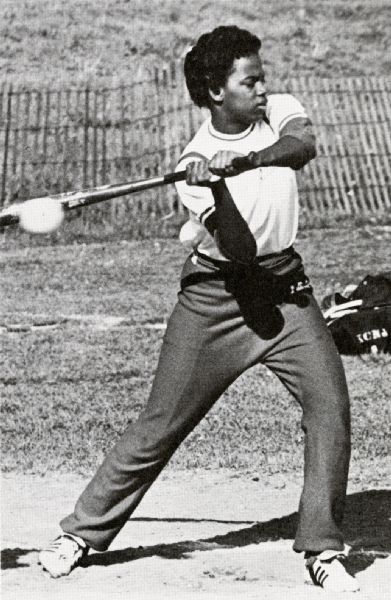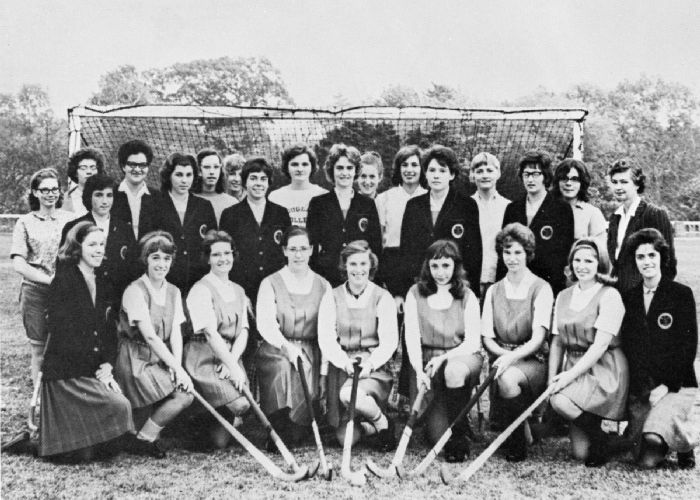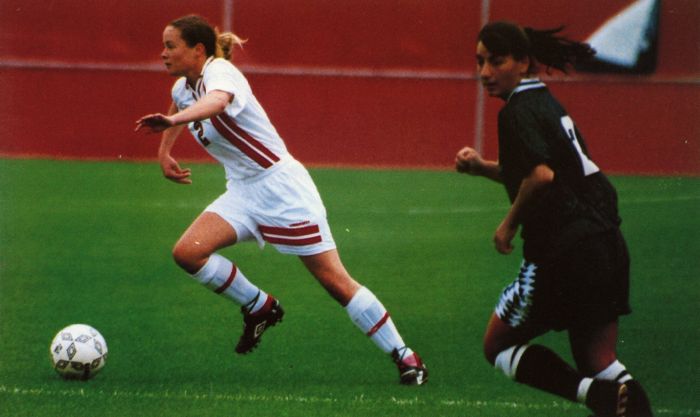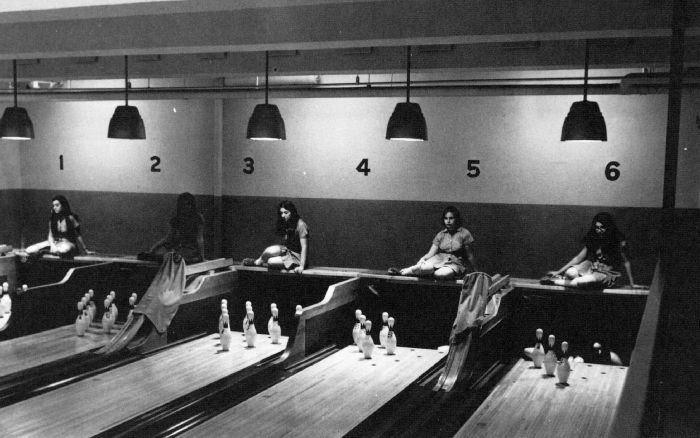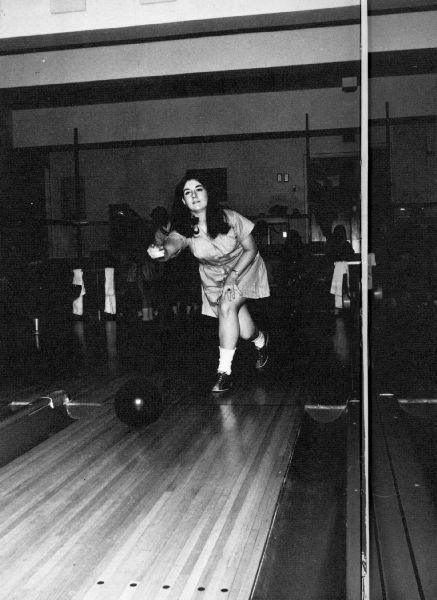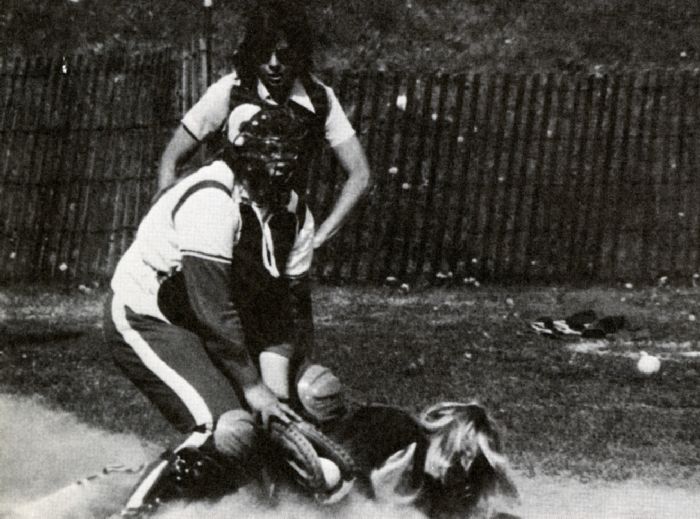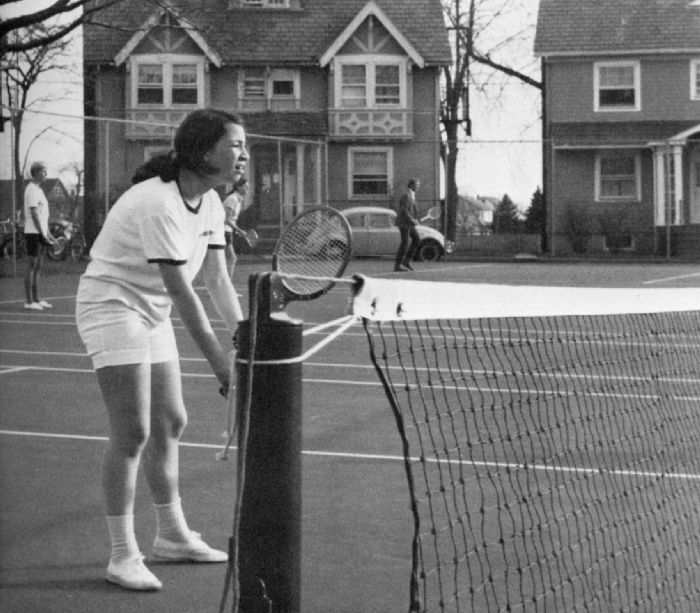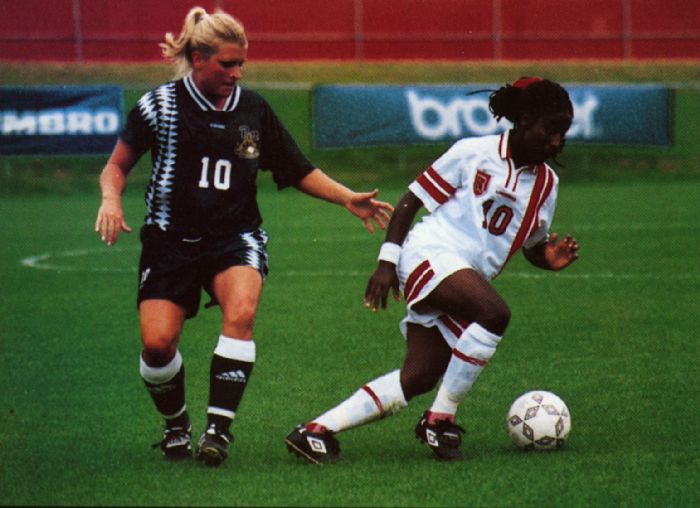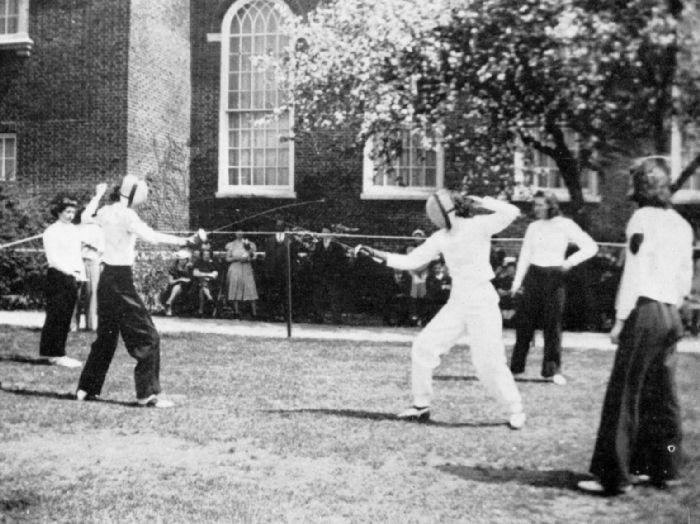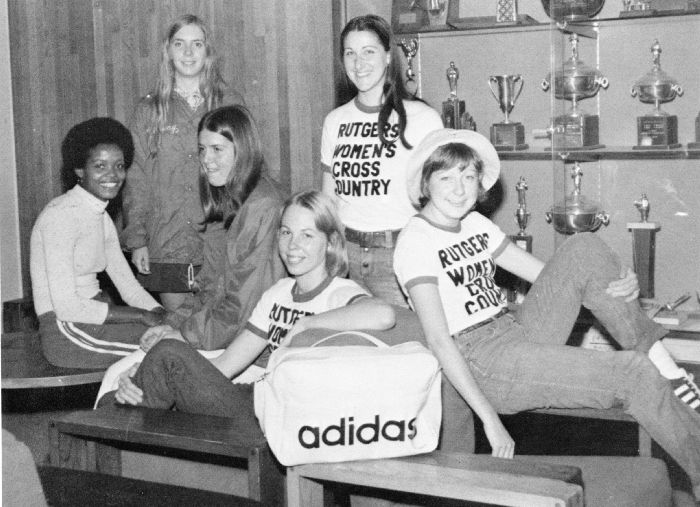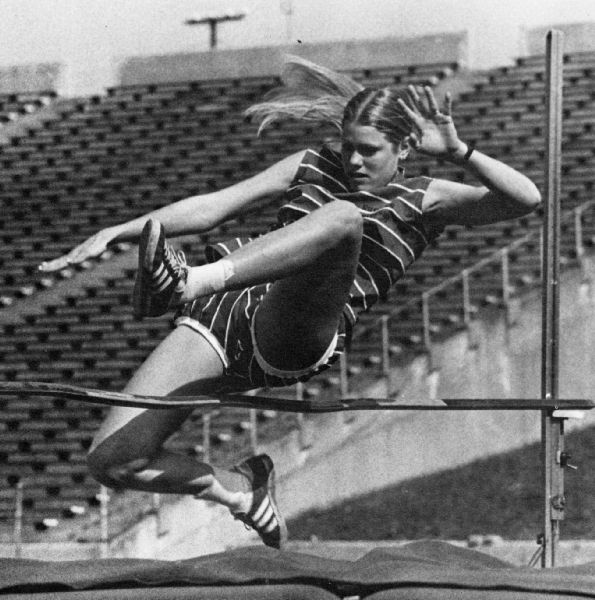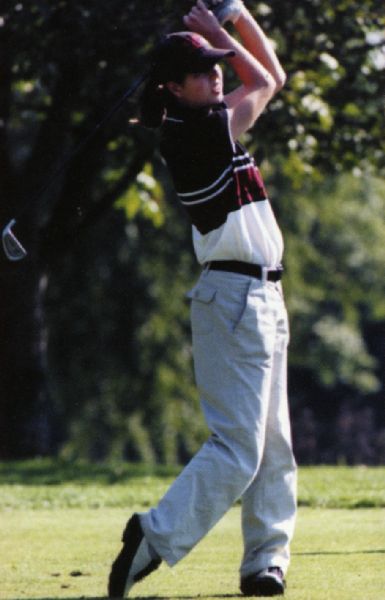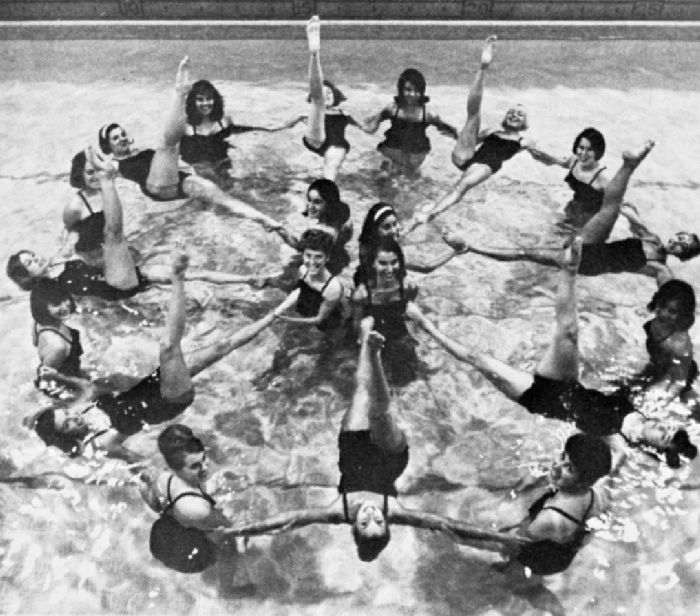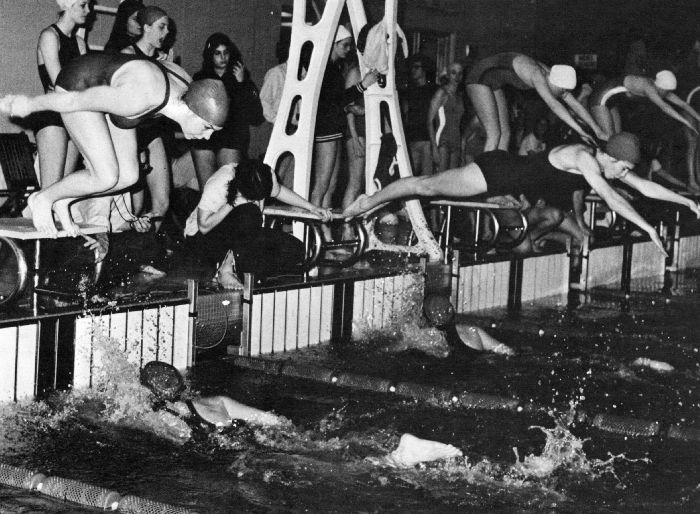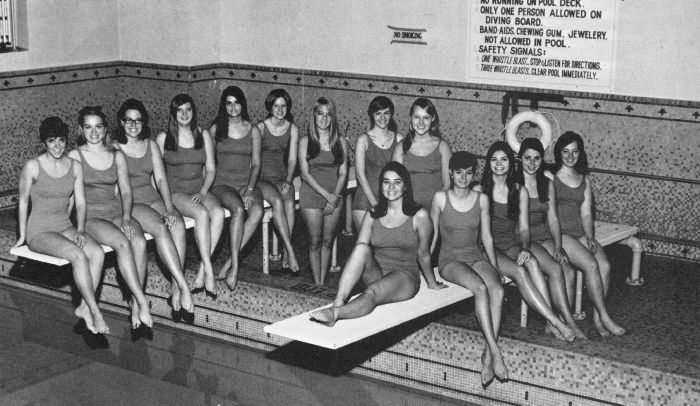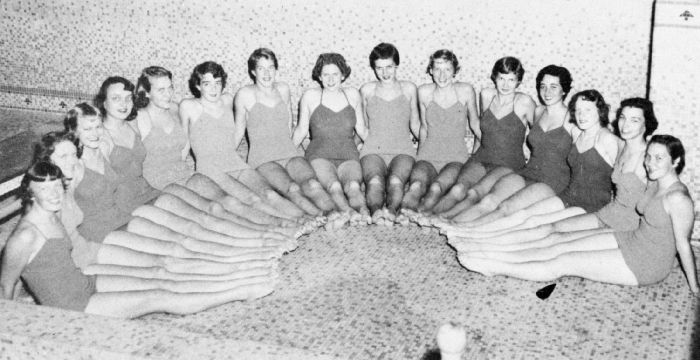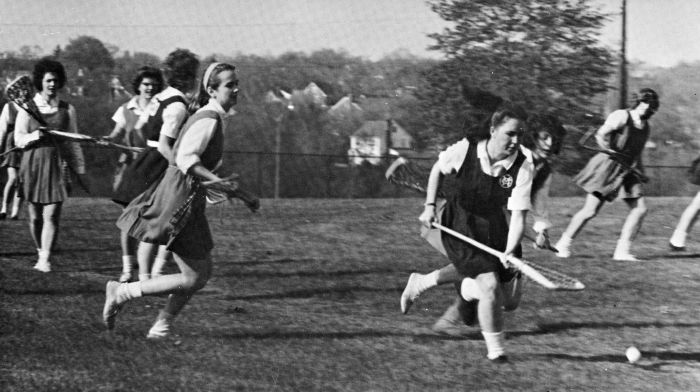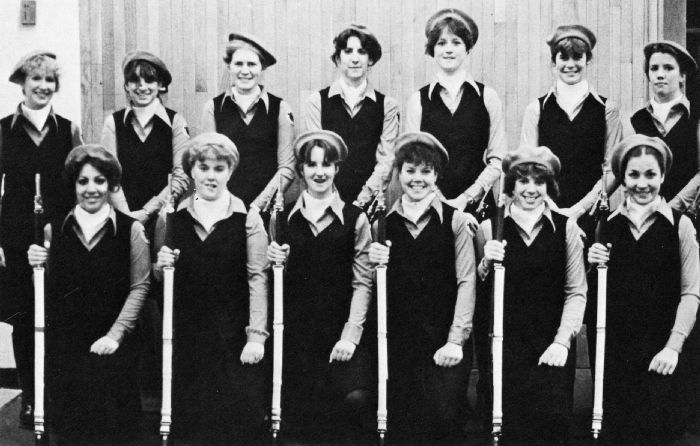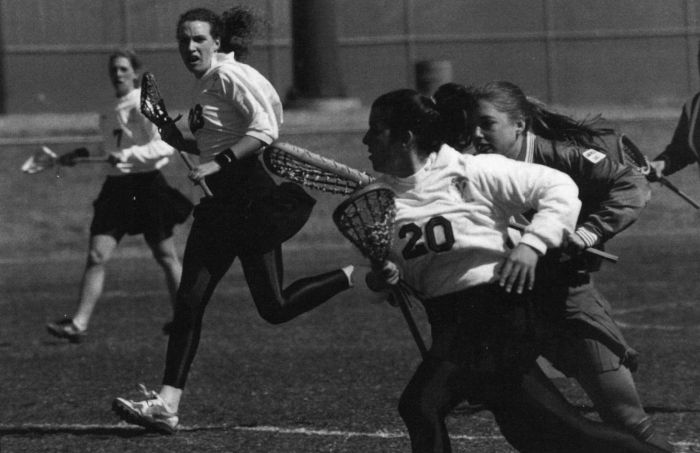 Previous
Next
Have students study the images of women throughout Rutgers' history. Instruct them to evaluate the images for depictions of women in passive and active roles. Additionally, have the students study the images and identify a trend or theme of their own choosing.
Photo album of women at Rutgers comprised of a sampling of images from Douglass College and Rutgers University. Additional images can be found in the archives of Rutgers University.
Extension
Have students examine how female athletes are portrayed in the media today. Students should consider still images as well as video depictions. Possible question: How do the modern representations of women resemble the traditional themes for the depiction of athletic women?