Essential question
Has equality been achieved through law?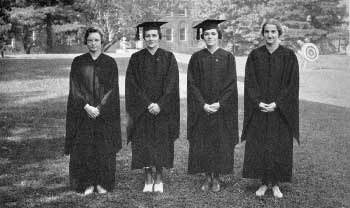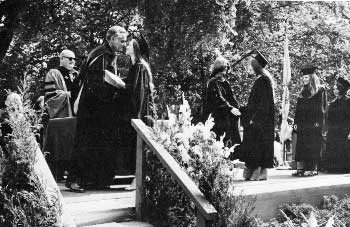 Read and analyze the following documents about the continuing issues surrounding gender equity and Title IX.
Documents
Questions
In the years after the passage of Title IX, what threatened gender equality in women's athletics?
In what areas did Title IX compliance at Rutgers need to be improved in 1993?
How did university officials respond to concerns by the Title IX compliance offer?
Testimonies from the NCAA
Using the video testimonials below, evaluate the impact of Title IX on female athletes, coaches, athletic directors, and other school employees.
Based on the interviews, discuss the impact of Title IX on those interviewed, and also discuss how Title IX has influenced your lives. Possible question: What opportunities do they have that are protected by Title IX?
"What does Title IX mean to you?"
Extension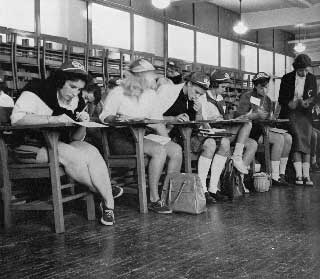 Freshmen class at Douglass College (1960)
Multi-generation Interview
Interview two women in their lives (family members, teachers, counselors, religious leaders, and so on) about their experiences and opportunities in school. One woman should have been in school during the 1970s and the other woman should have gone to school at least ten years before the present.
Possible questions for the interview:
What activities, organizations, or sports were you involved with while in high school?
Describe your physical education experience in grade school and/or high school?
Did you notice any gender inequity while you were in school? If so, explain.
Is your school Title IX compliant?

Evaluate your school on Title IX requirements to see if your school is compliant with Title IX. Divide into three groups to examine Title IX criteria using the National Women's Law Center's "Check it Out" questionnaire.

Also, research how schools learn about Title IX and practice compliance today. Check out Playing Fair: A Women's Sports Foundation Guide to Title IX in High School & College Sports from the Women's Sports Foundation.
Accessible via: https://www.womenssportsfoundation.org/advocacy_category/title-ix-compliance/
Title IX Babies
The female athletes of the mid-1990s were a different breed than those who competed before them. Most were born in the early 1970s and grew up with access to leagues and teams that their mothers had only dreamed about. Dubbed, "Title IX babies," many of the team sports players had attended college on athletic scholarships or at least had gotten to play on college teams.
Quoted from:
Blumenthal, Karen. Let Me Play: The Story of Title IX: the law that changed the future for girls in America. New York: Atheneum Books for Young Readers, 2005. 107. Print.