Essential question
How did Title IX change the scope of collegiate athletics?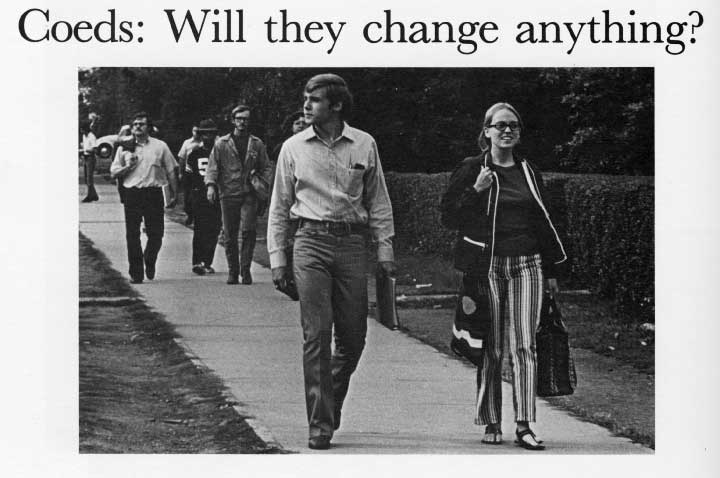 Carrying it Out
Title IX carried all kinds of promise for girls and women. But schools and universities needed to know precisely what this law required of them. The job of interpreting the specifics of the law—and figuring out exactly what Congress wanted—went to the U.S. Department of Health, Education, and Welfare, known as HEW. This organization was in no hurry. It had never dealt with sex discrimination issues before or even looked at classrooms and school activities in terms of how girls and boys were treated. The process was slow. Eventually guides were created for schools to help carry out the Title IX law. These guides are still being used today.
Women's Athletics at Rutgers University
In the 1972-73 school year, Rutgers College became co-educational adding 475 women to the freshman class and 125 women as transfer students. Rutgers College had to make adaptations and adjustments to prepare the school for Co-education. The College retrofitted dormitories, restrooms, and locker rooms, but the changes under co-education did not come quickly. Physical alterations comprised only one area of adjustment when women entered Rutgers College, and soon additionally programs and opportunities would be created.
When Title IX was passed in 1972, schools and universities had to make changes to implement the requirements for gender equality outlined by the legislation. At Rutgers University, provisions for women's athletics were already underway when Title IX became law. During the 1972-73 school year, University officials began organizing women's athletics at Rutgers.
Rita Kay Thomas was hired as Rutgers University's first Director of Women's Athletics and Assistant Athletics Director. Thomas was a graduate of Mt. St. Scholastica College in Minnesota as well as Syracuse University. When Thomas came to Rutgers, she served as women's tennis coach in addition to her responsibilities as Assistant Athletic Director, including supervising, coordinating, administering, and overseeing all aspects of Rutgers women's athletic programs. Thomas was also charged with upholding Title IX regulations, which required knowledge of the law and an understanding of what it meant to be compliant.
Quoted and/or adapted from:
Blumenthal, Karen. Let Me Play: The Story of Title IX: the law that changed the future for girls in America. New York: Atheneum Books for Young Readers, 2005. 52. Print.
"Coeducation." Scarlet Letter (Rutgers University Yearbook). 1973. 46. Special Collections and University Archives, Rutgers University Libraries. Date Accessed 15 July 2010. Print.
Dendo, Kayo. "Title IX Presentation for Electronic New Jersey." Alexander Library at Rutgers University. 7 July 2010.
Title IX Document Analysis
Have students use the excerpt and documents below to explore how Title IX changed educational institutions.
Questions
Who needed to understand Title IX and its implications?
How did educational institutions learn about Title IX and provisions for gender equality that were required under the law?
What steps did Rutgers take to comply with Title IX?
What difficulties existed for women's athletics at Rutgers University when they began in the mid-1970s?
Excerpt from Fall 2007 interview with Rita Kay Thomas:
"Our games would be prior to the men's games so at 5:45 it was very difficult to get anybody to the game because 1.) traffic around here 2.) if you had a job you certainly wouldn't be able to come so you had to be unemployed and you had to have enough money to get in so initially of course we didn't charge for admissions but when we were charging admissions [the fans] became the retired people and they were wonderful...In the crowd most of them had gray hair and my colleagues would say Rita Kay what did you do, back a bus up to an old age home and tell them you have free meals or what? We would have two hundred or so people and I said no the word gets around because these people loved it and it was very healthy for them too because they would come to all the games, they learned all the players names…they would learn [the] statistics…they would make cookies and give them to the teams, they would follow them to away games, they would tail gate, they would be out in the weather. It was absolutely wonderful, so I thought they were getting a benefit 1.) they were up to date on things. Their minds were being stimulated so they were very sharp, their blood was being improved in circulation because they were screaming and yelling 3.) it was a way for them to be vigorous in their activities because they had to climb up on the bleachers and they would interact with the team after the games. They would be down there talking to the kids and the parents whom they had met in the stands. So it became quite an enjoyable experience and beneficial to both sides so out athletic program and to the fans. And they bonded with those families, parents were just so grateful to know that so many people cared about their daughters and that they would try to get to all the games…So it was a family and to me it was the main ingredient here at Rutgers University, the family feel to it, that's what I found when I came here that I had been searching for a University that would have team spirit, that would stand a cheer and sing the school songs and all that I had experienced in college and so it was wonderful to see people here have that type of spirit and bond..."
Quoted from:
Interview Project by Marissa Rodriguez (Rita Kay Thomas), Leadership Scholar at the Institute for Women's Leadership, Rutgers University. Fall 2007. Gathered by Kayo Denda, Women Studies Librarian at Rutgers University. Special Collections and University Archives, Rutgers University Library. Date Accessed 15 July 2010.
Documents
Extension
School mottos, vision statements, and songs all serve to provide a coherent focus and mission for a school. Have students read their school's motto, vision statement, or song for any evidence of Thomas Jefferson's idea "a strong body makes the mind strong."