The Paterson Silk Strike of 1913: The Role of Immigrants in Labor Unions
Essential question
What was the impact of immigrants on the industrial work force in America, particularly labor unions?
Module summary
Paterson, NJ has a long and rich labor history. Probably one of the most well-known strikes in Paterson (if not NJ) history was a particular one which took place in 1913 and lasted almost 5 months. The 1913 strike is often cited as a failure by many sources as the workers were eventually "starved into submission" (essentially their funding was exhausted) however, there is much more to the strike than that. If judged simply by their outcomes or immediate change reflected once a strike ends, then many strikes throughout history might be termed "failures". The purpose of a strike and role of an organized labor movement is much greater than simply winning specific terms and conditions. In fact, movements such as this can often be connected to far more sweeping reforms and greater changes in society or can simply be an important step towards a greater goal. One of the elements that seem particularly clear about Paterson, is that its unique blend of immigrants (as a city not far from New York City) was something which had been used as an asset by the people controlling the labor for quite some time. Perhaps the Paterson Strike of 1913 signaled a shift in that regard.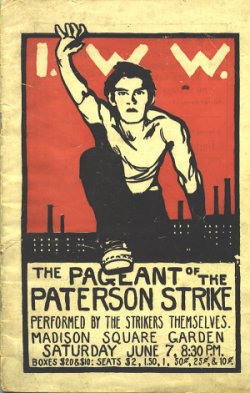 The goal of this learning unit is to provide opportunities for learners (students & teachers) to investigate the impact of immigrants on the industrial work force in America, particularly labor unions. In the process, if all the activities are implemented, students will have the opportunity to engage in reading and analyzing historical maps, primary source photographs, historical narratives, primary source documents, and finally perform a historiographical analysis of two different sources on the role of immigrants in Paterson's labor force. The module is designed be one overall inquiry based activity where students will move from knowing next to nothing about the Paterson Strike to understanding the specifics facts as well as the broader themes of the strike. The module could, however, be broken down into stand alone activities (as I have done below) which address a specific skill or a specific aspect of the strike.
Activity explanation