Native Americans had long harvested wild cranberries found growing in numerous wetland bogs of South Jersey. They knew the berries to be useful in making dyes and they also believed cranberries had cleansing powers that successfully withdrew poison from arrow wounds. The raw berries, having an astringent effect, were also used to constrict blood vessels and reduce or stop bleeding when treating arrow or other puncture wounds of the skin. In terms of their edibility, some small amounts did probably get consumed in their raw state, and some were cooked in maple syrup or were dried and combined with meat to make pemmican that proved to be a useful, non-perishable food in the long winter months between harvests.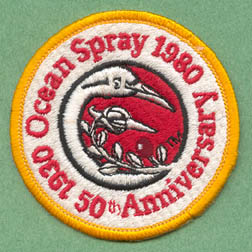 Opinions differ as to the origin of the name cranberry. The more commonly accepted explanation is that in the early stages of the plant's development, the cranberry flower resembles the head of a crane, thus the name. Another theory suggests that the word comes from the French canneberge or shore reed, the name given to it by French colonists in eastern Canada. New Jersey settlers certainly knew of the cranberry, but most found the various species of cranberries growing in wild bogs too tart for casual eating. The limited availability of suitable sweeteners necessary to make them more palatable reduced their primary uses to making cooking sauces and jams for use as an accompaniment to venison or wild turkey dinners at holiday tables. It was also known that consumption of cranberries in a seaman's diet served as a helpful preventative to scurvy.
Earliest efforts to cultivate domestic cranberries occurred in the early 1800's in Massachusetts in the vicinity of Cape Cod. There, a local farmer and Revolutionary War veteran named Henry Hall observed that large amounts of berries developed and ripened after winds and tides swept sand into existing bogs. But, beyond concluding that the sand helped stifle weeds and promote vine growth, early Massachusetts growers had but vague understandings of the requirements and soil conditions necessary for successful berry production in commercial quantities.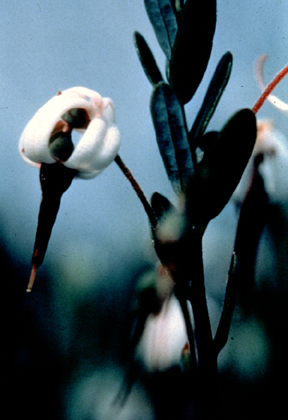 The first attempt to commercialize the industry in New Jersey occurred in 1845 with the introduction of cranberry vines into new or existing wild bogs. Numerous failures occurred, and beyond recognizing that growing cranberries in New Jersey presented a different set of problems than in Massachusetts, no one locally really knew very much about what it would take to produce a commercial cranberry harvest. After a series of minor successes and many failures, a more earnest effort began in 1860. Part of the renewed activity came as a result of the discoveries of George Cook who had determined that swamp muck placed in the bogs was the best fertilizing agent for berry production. Knowing from earlier efforts in Massachusetts that sand played a crucial role, Cook successfully rooted young plants in bogs that were layered with swamp muck and then covered with 4-6" of sand. While the young plants rooted and took hold, Cook's observations also noted that considerable harm was done to the plants by a variety of insects in warm weather and by freezing in winter months. It was after these observations were documented that water was introduced into the bogs. The resultant controlled flooding served to kill millions of harmful insects in the spring and protect young roots and vines from freezing in the winter. So successful were some of these experiments in the 1860s that Cook was able to report in his 1869 New Jersey state geology report that "already our fields supply more than half of all raised in the United States." These were heady words for a new and yet unproven agricultural enterprise but evidence that cranberry production was taking on new importance as scientific inquiry and record keeping progressed.
Cranberry Fever
In the cranberry industry, the years immediately following the Civil War have been characterized by a number of writers as promoting "cranberry fever." Everyone, it seemed, believed they could reap large profits growing and harvesting cranberries; yet few possessed not the foggiest notion as to what would be required. The New Jersey Cranberry Growers' Association printed this letter for its membership received from a New York farmer that displays best intentions, a California gold rush mentality and widespread ignorance on every aspect of the business including conditions and geographic areas necessary for successful production.
Cook was not alone in New Jersey in attempting to develop a successful cranberry industry. Local landowners possessing large tracts of land in Burlington, Ocean and Atlantic Counties began cranberry production using natural bogs or land excavations left by the now depleted iron ore reserves of a once prosperous local industry. Among these landowners are names such as Braddock, Webb, Shreve and Budd. Their efforts are best characterized as a mixed bag of small successes and bigger failures.
The early efforts of George Cook and others to promote cranberry production were greatly expanded by J.A. Fenwick and his son-in-law Joseph J. White, on land located near Pemberton, New Jersey. Although Fenwick died before seeing the final fruits of his labors, White's subsequent research and technical efforts directly impacted the evolution of the industry. His research into soils and fertilizers necessary for successful and profitable cranberry production built upon Cook's earlier efforts and proved that Pine Barrens' soil, long deemed too sour for traditional agricultural pursuits, could be used successfully for cranberry bogs. An example of his research is revealed in his log book for 1895 where he describes vine conditions and crop yields in a number of bogs treated with different fertilizers on the nearby Budd Farm in Pemberton. A farmer, businessman and inventor, White's work also carried beyond soils and fertilizers. He understood the need for water management and constructed dams and sluiceways to utilize the Pine Barrens' watertable. Attention was also devoted to harvesting and shipping of ripened berries. Although he didn't conceive the idea, it was White that developed the still used method of berry separation that rolls ripened fruit down inclined planes with built in plateaus. Berries that were firm and at the height of freshness reached the bottom; less desirable or overripe fruit that would quickly rot did not. Today, the system is still used to separate the best fruit sold in its raw state in bags at supermarket produce counters from the softer, overripe berries that still have commercial value if cooked down and processed quickly into sauces and juices.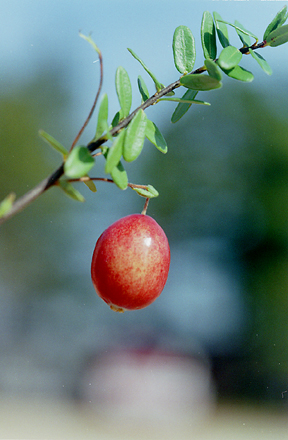 Many early growers, experiencing both failure and success, saw the need for an organization that could promote scientific knowledge among growers, find and develop markets and promote standardization among packers and shippers. These perceived needs led to the formation of the New Jersey Cranberry Growers' Association that in turn became the American Cranberry Growers' Association. Both organizations in the late 19th century struggled to recruit members and bring acceptance of scientifically based cranberry production needs. Fears of the more successful growers that they would be surrendering competitive edge, loss of markets and private shipping labels to competitors also worked to the disadvantage of both the state and national associations in these early years.
Despite the best efforts of Cook, Fenwick, White and others to promote sound agricultural practices, cranberry production remained a risky business where many continued to fail. In 1880, Cook was still reporting on soil composition properties in productive bogs at the New Jersey Cranberry Growers' Assciation annual meeting while lamenting the continued level of ignorance within the industry as witnessed by the failed efforts of many cranberry growers. See excerpts from Reports No. 1 and No. 2. More than a decade later the newly formed American Cranberry Growers' Association reprinted two briefer letters similar in tone to the New York farmer's plea for help.
Dear Sir-As I have bought a farm in New Jersey, Morris County, where considerable cranberries are grown, will you please inform me where to buy the wooden utensils to pick the same from the plants, being unable to find the tools in New York. Awaiting your agreeable reply, I remain,
Yours respectfully,
* * * * * * * * * * * * *
A second communication from a competing Massachusetts cranberry grower stated "A gentleman from your State was in my store a few days ago and made the statement that he never let the water off his bog until the vines came into blossom; this seems to me an extraordinary statement, and being so entirely foreign to our methods in this State, thought I would like information on the subject. If such is the practice in your State, is there any advantage gained by it? Do you believe it possible that on a bog covered with one or two feet of water that the vines can come into blossom, and that when the water is let off the berries will form and grow?
24th Annual Convention, 1894. Official Proceedings.
American Cranberry Growers Association, p. 14
In response, the written record of the association proceedings spoofed the first inquiry humorously stating that "it would be necessary to determine whether his cranberries in Morris County grow on trees or vines before we can advise him whether to purchase ladders or gum boots to gather them." While an attempt at humor, it illustrated the wide-spread lack of knowledge that continually surrounded the propagation and harvesting of cranberries. In an opposing mood, the second query was attributed to a misunderstanding as to what was meant by flooding and taking off of water and suggested that membership in the American Cranberry Growers' Association would help to alleviate such misunderstandings in the future. Finally, perhaps, written evidence that these cranberry growers were realizing the need for development and dissemination of accurate scientific information throughout the industry.
The 20th Century
The 20th century has brought great change to the New Jersey cranberry industry. Prior to World War I, large numbers of pickers transported from Philadelphia harvested the ripened cranberries. By 1920, the industry was beset by conflict over working conditions, sub-standard housing and pay. As transportation, housing and labor costs rose in response to this conflict, the industry found itself unable to produce a cranberry harvest for profit.
Growers turned to wooden scoops resembling large wooden rakes. Pulled through the ripening berries, the scoops greatly increased yields while reducing manpower needs but created sore backs among workers and significant crop loss due to damage to berries and vines. Mechanical wet pickers were then introduced into the bogs and again improved worker productivity and reduced but did not eliminate crop loss.
The 1950s saw the invention of the Darlington Mechanical Dry Harvester. Named for its inventor Tom Darlington, a member of the White family and owner of the Whitesbog cranberry operation, this harvester produced a superior product for dry packaging of whole berries in plastic bags. Wet harvesters continued in use for harvesting of berries destined for juice or sauce manufacture with final distribution in cartons, bottles and cans.
Today, New Jersey cranberry growers still face economic challenges related to market consumption and production costs. These growers, in cooperation with research efforts of the New Jersey Agriculture Experiment Stations, the United States Department of Agriculture and their own cranberry associations and cooperatives, have greatly expanded the database of knowledge related to the successful growing of the fruit. While the day of the worker pulling a wooden hand scoop over cranberry vines is but a memory, cranberry production remains a high risk business. New Jersey bogs located at the southern edge of the cranberry growing zones in the United States present their own unique production problems. As we enter the 21st century, the commercial cranberry industry in New Jersey has seen major shrinkage of acreage under cultivation due to higher costs. The application of science and technology to cranberry production, often with equipment of local design and invention, have allowed growers to fight the never ending battles of cost containment and weed and insect control while improving water and bog management. Coupled with continued efforts to produce new cranberry products and packaging and aggressive marketing through cooperatives, New Jersey continues to hold its No. 3 ranking nationally behind Massachusetts and Wisconsin in total cranberry production.
Student Activities
Individually, or in small groups of 2-3 students, prepare a classroom presentation on cranberries in the present day. Include parts a-b-c in your presentation.

The older image of cranberries is associated with cranberry sauce at Thanksgiving. Visit the grocery store and find ten different products that list cranberries as one of the main ingredients. Report on your discoveries to your classmates.
Present a brief oral report to your classmates detailing one cranberry product that you particularly like. Be specific in describing its characteristics and reasons you like the item. Identify how it is consumed.
Ask a grandparent, friend or neighbor over 50 years of age if they ate cranberries or cranberry products as a youngster? What form did it take and what do they remember most about its consumption?

Prepare a scrapbook of illustrative materials and articles on cranberries. Use newspapers and periodicals, product labels, National Geographics, trade journals and possibly your own photographs or using a digital camera and scanner, prepare a electronic scrapbook containing the same content.
Search Internet sites, periodical indexes and library database programs such as SIRS related to cranberry associations and cranberry production. Prepare a written report on the present-day health of the cranberry industry in the United States generally and New Jersey specifically. Some topics worthy of highlighting include issues affecting supply and demand, agricultural production, government regulation, labor and marketing costs and membership in cooperatives. Others may be added where pertinent.
Do some library-based research to determine what claims have been made as to the health benefits associated with eating cranberries. Are they accepted by the medical community or viewed as examples of medical quackery? Submit your findings in a written or oral report.
In a group setting, design an ad campaign to promote marketing of cranberries.